Warren Buffett: I bought $12bn of stock after Trump won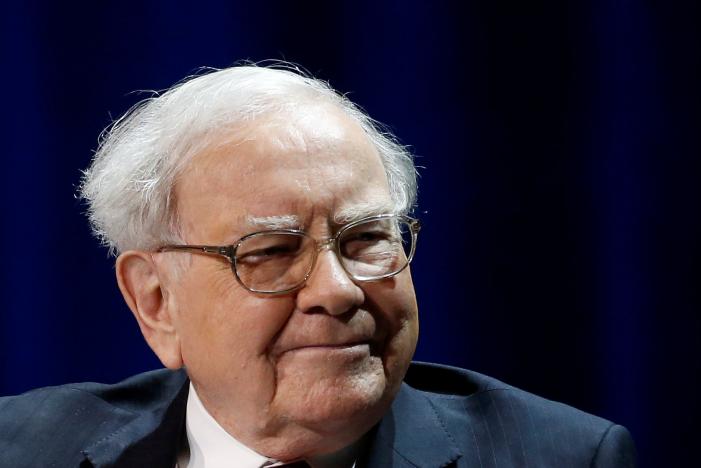 The failure of Warren Buffett's favored candidate to capture the White House has not dimmed the billionaire's appetite for stocks.
Buffett revealed that he has bought $12 billion of stock for his company Berkshire Hathaway Inc (BRKa.N) since the Republican Donald Trump beat Democrat Hillary Clinton in the Nov. 8 U.S. presidential election.
In an interview with talk show host Charlie Rose that aired on Friday night, Buffett suggested that Berkshire's post-election stock purchases overall were even higher, reflecting stocks that his deputies Todd Combs and Ted Weschler bought.
"We've, net, bought $12 billion of common stocks since the election," Buffett said. "The guys that work with me, the two fellows, they probably bought a little bit or sold a little bit too."
The speed with which Berkshire is buying stocks is unusual. It has spent in fewer than three months roughly half what it spent on equities in the three years ending Sept. 30, 2016.
Buffett demurred on whether Berkshire has added to its stakes in the four largest U.S. airlines: American Airlines Group Inc, Delta Air Lines Inc, Southwest Airlines Co and United Continental Holdings Inc (UAL.N).
Berkshire revealed those stakes in mid-November, surprising many given Buffett's long aversion to the sector.
Asked why Berkshire dove in, Buffett said: "It was in large part my decision."
Berkshire will likely by Feb. 14 disclose some of the stocks it has bought, in a regulatory filing listing most of its U.S. holdings as of year end.
The Omaha, Nebraska-based conglomerate owned $102.5 billion of equities as of Sept. 30, excluding its stake in Kraft Heinz Co.
U.S. stocks rose after Trump was elected, reflecting investor optimism that his policies might boost economic growth, aided by a Congress also under Republican control.
Buffett said Trump is unlikely to reach his goal of 4 percent annual growth, but that growth at half that level would over a generation add $19,000 per person to real gross domestic product.
"Two percent will produce miracles," Buffett said.
The U.S. economy grew by 1.6 percent last year, the lowest since 2011.
Follow Emirates 24|7 on Google News.