Weather Bulletin: Rain in UAE today as mercury dips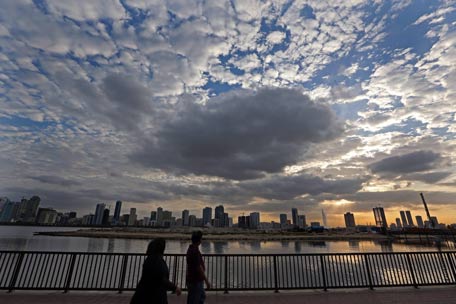 Update: A second low pressure system sweeping across the Gulf region will bring varied intensities of rainfall across the UAE on Wednesday, which will also affect neighbouring Oman, Qatar and east of Saudi Arabia.
The UAE's forecasters have warned of unstable weather over the next 48 hours, which will also give rise to fresh winds at times that could blow dust and sand over open areas and reduce horizontal visibility.
Additionally, a marine warning also remains in place with towering clouds giving way to rough seas in the Arabian Gulf and the Oman Sea, with wave height reaching highs of 10 feet or more.
The country's National Centre for Meteorology and Seismology (NCMS) says wet weather will also bring about a drop in mercury with temperatures cooling off by nearly seven degrees Celsius.
"Satellite imagery indicate the unstable weather system spread across 1,000km or so, which will affect not just the UAE, but will bring about a similar effect to Oman, eastern Saudi Arabia and even Qatar," an NCMS spokesperson told Speaking with Emirates 24|7.
"The country will experience varied intensities of rainfall across the western region of UAE, which will gradually spread across the northern and the eastern parts of the country as the day progresses."
Thunderstorms are also a probability, with the wet weather taking us into Thursday, before gradually dissipating by late evening.
The spokesperson said wet weather will also bring about cooler climes late today, adding: "We will experience a gradual drop in temperatures, between five and seven degrees Celsius; however, the humidity levels will spike at night."
Adding to the instability of weather will be fresh winds, "which could reach speeds of 45kph over the sea, gradually stretching towards land and giving rise to dust and sand over open areas."
"By Thursday, the rainfall will largely be limited towards the northern and eastern part of the country, with temperatures gradually rising once again," the spokesperson said.
The system brought about light rainfall earlier in the week across parts of UAE.
Earlier story: More rain forecast

More rainfall is expected across parts of UAE by Tuesday afternoon, with the country's forecaster stating the coastal, western and islands could experience light rain.
The weather update comes even as parts of Dubai and Sharjah recorded light showers on Monday, with a new low-pressure system bringing rainfall to the country over the next 72 hours.
The National Centre for Meteorology and Seismology (NCMS) further stated the weather on Tuesday will be partly cloudy weather in general, with moderate, fresh winds.
The Arabian Gulf and the Oman Sea could be rough at times, with a spike in humidity tonight and early morning over some coastal and internal areas.
The wet weather is expected to continue on Wednesday and Thursday with different intensities of rainfall across the UAE, with fresh winds blowing up dust and the sea turning 'very rough'.
You may want to hold off putting away those umbrellas and rain shoes just yet, as the UAE braces for another low-pressure system that will bring scattered showers and possible thunderstorms to the country over the next three days.
The good news is, the UAE's MET office has stressed the new weather system will not be as severe as the one that dumped record rainfall across the country last week, stranding people, causing traffic snarls and resulting in property damage across the emirates.
However, the UAE's National Centre for Meteorology and Seismology (NCMS) has said the weather system will reach its peak on Wednesday and Thursday, bringing thunderstorms and moderate rainfall across the northern and eastern parts of the country.
"The wet weather will commence from Monday, with a partly cloudy forecast that will bring light rain across the coastline and the islands that will continue until Tuesday," an NCMS spokesperson told Emirates 24|7.
"Areas that could expect light showers will include Dubai, Abu Dhabi, Sharjah and the Northern emirates."
The weather system will gain momentum on Tuesday, with towering clouds increasing to give way to moderate to heavy rainfall on Wednesday and Thursday.
The spokesperson added: "There is also potential for sporadic thunderstorms to sweep across the some areas at the end of the work week, giving rise to unstable weather."
Speaking about the severity of the new storm, they further said: "What we will experience is a low pressure system moving from west to east, with thunderstorms arising when we face a unique position of polar jet streams that move north to south.
"But the low pressure system that will sweep across the UAE this week will not be of the same intensity that we experienced last week; that was a rare weather pattern that may not even occur for the next 15 years or so."
While no marine or flash flood warning is in place, the NCMS has said residents should take care of stormy seas in wake of towering clouds and are advised to check weather updates.
Last Wednesday's storm swept across the UAE, giving rise to heavy rain, thunderstorms, and even the occasional hail, with gushing winds reaching speeds of 130kmph at Al Bateen Airport, while Al Shuaib recorded the highest rainfall at 294mm.
Other areas such as Al Fuah, Al Ain and other northern internal areas recorded over 100mm rainfall each.
The waterlogging that followed saw Dubai Municipality rallying a special 'Ghaith Team' to clear communities and major roads from debris and accumulated water, with 1,000 workers across 120 teams dispatched to various areas in the emirate to clean up rain water and drainage holes.
Meanwhile, Dubai Police and the Roads and Transport Authority of Dubai rallied together to maintain traffic and clear waterlogged areas on main highways.
Similarly, as the capital's Ministry of Interior and Abu Dhabi Municipality dispatched teams to clear roads, the latter also housed families of citizens in hotel rooms following homes being damaged by the rains.
Also Read: UAE Rain Impact: Etisalat begins dismantling sphere at Abu Dhabi HQ
Follow Emirates 24|7 on Google News.