What are Top 3 items stolen from cars in UAE?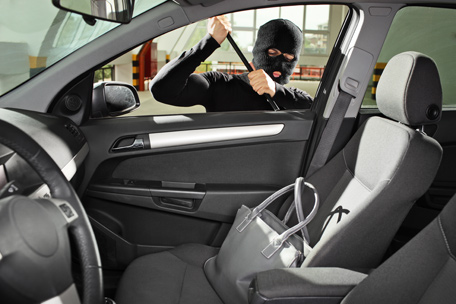 Cases of stealing from cars has dropped in Abu Dhabi to 104 thefts in 2013, in comparison to 143 thefts in 2012; a drop of 27%.

"This decrease is the result of the Capital Police Directorate's efforts in fighting crimes, by deploying special task forces assigned to address actions that jeopardize security, and by intensifying police patrols at all times of the day in residential and commercial areas, where policemen vigilantly monitor any attempts of theft. The Capital Police have also worked on increasing locals' and expats' awareness levels," said Brigadier Maktoum Al Shareefi, Director of the Capital Police Directorate.

Brigadier Maktoum Al Shareefi, explained that, in 82 of the theft cases, thieves from different nationalities forced entry into the vehicles, while in the cases of 16 other thefts, they broke open the cars' windows. The other thefts were carried out using common scam. "The negligence of vehicle owners is the main reason behind these thefts, as vehicle owners would forget to lock their doors as they left their cars," Brigadier Al Shareefi added.

Police Warnings
Brigadier Maktoum Al Shareefi said that the multiple police warnings concerning the theft of car contents were not taken seriously enough. "People who leave their cars unattended or unlocked are providing thieves with an irresistible opportunity to drive off with the vehicle. They are often unaware that there are evil people who are looking for unattended cars in front of supermarkets, bakeries, houses, public facilities, and malls."

Additionally, Brigadier Al Shareefi noted that most of the stolen items are mobile phones, laptops, money, and other items that are left exposed in plain view. Greedy people will take advantage of the absence and negligence of the car owner who left their car unlocked; making it easier for them to steal the contents of the car and run away. Negligence of car owners is a common cause of car theft. The few seconds they would not spend locking their cars cost them a lot," Brigadier Al Shareefi continued.

Different Methods
Brigadier Al Shareefi added: "Another method of stealing consists of deceiving victims by telling them that they have a flat tire or that the vehicle has some kind of malfunction. When the unsuspecting car owners step out to check their vehicle, the thief's accomplice nabs whatever items left unattended inside the vehicle, and runs away with it."

He also pointed out that thieves rely on another method, similar to ninja rocks. They can quickly and almost silently fracture the car's window and hastily carry any valuable items left in plain view.

Preventive Methods
Brigadier Al Shareefi called upon locals and expats to not leave their valuable items or cash in their vehicles. "In case someone had to keep these items in the vehicle, they must lock them in the trunk," he added. "Valuable items should not be left in plain view to passers-by, as the car will be prone to theft." He also urged the public to cooperate with the police in applying preventive measures and to participate in countering these crimes to deter offenders.

Brigadier Al Shareefi also advised locals and expats to not leave their cars with the engine on and no driver, as it encourages thieves to drive off with the car or steal its contents. In addition to that, he recommended drivers take precautionary measures to protect their vehicles against burglary. Precautionary measures include; to name but a few, locking car doors, enabling protection and alarm systems, locking valuable items in safe places, avoid leaving valuable items in cars, and using designated parking areas to park their cars. These procedures may protect car owners from such criminal acts.

Brigadier Al Shareefi said that Abu Dhabi Police is fighting all kinds of crimes, including car thefts. Abu Dhabi Police relies on raising the public's awareness and encouraging them to avoid negligence while their cars are running, and to apply preventive methods to protect their property against theft. He also highlighted that "Mawaqif" staff are aware of the frequent crimes that occur, like the theft of car contents. "Mawaqif" staff can aid the police by providing advice and guidance to the public regarding ways to protect the valuables in their vehicles and protecting them from theft, and warning them against leaving their car engines running. He stressed the importance of enhancing the sense of security among individuals and encouraging them to inform the police by calling the Operations Room number: 999, should they observe any abnormal or suspicious behavior.
Image: shutterstock
Follow Emirates 24|7 on Google News.