What killed Aaron Swartz? Reddit co-founder commits suicide at 26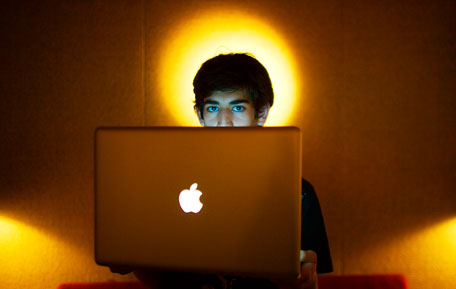 Aaron Swartz, an Internet genius who helped deliver new Web content to users by co-developing Reddit and RSS before becoming a digital activist, has committed suicide. He was 26.
Ellen Borakove, spokeswoman for New York's chief medical examiner, told AFP that Swartz had hanged himself and was pronounced dead late Friday in the city's Brooklyn borough.
At the time of his death, Swartz, who had gone on to press for free public access to Web content, was just weeks away from being put on trial on accusations of stealing millions of scientific and literary journal articles from the subscription-only JSTOR service.
He faced decades in prison and $1 million in fines if convicted.
Following the activist's 2011 arrest in Boston, his anti-censorship group Demand Progress said the prosecution "makes no sense."
"It's like trying to put someone in jail for allegedly checking too many books out of the library," the group's executive director David Segar said then.
The hacktivist's family and friends placed some of the blame for his suicide on prosecutors and the Massachusetts Institute of Technology, where Swartz made the JSTOR download using a laptop he placed in a utility closet.
"Aaron's death is not simply a personal tragedy. It is the product of a criminal justice system rife with intimidation and prosecutorial overreach," they said in a public statement.
"Decisions made by officials in the Massachusetts US Attorney's Office and at MIT contributed to his death."
US Attorney Carmen Ortiz, who filed the indictment against Swartz, said then: "Stealing is stealing whether you use a computer command or a crowbar, and whether you take documents, data or dollars."
Two years before the MIT incident, the FBI launched an investigation after Swartz released a trove of US federal court documents online that are usually only accessible at a fee through the government's Public Access to Court Electronic Records, or PACER.
In 2008, that fee was eight cents per page.
According to the FBI's profile of Swartz, which he obtained and posted online, the activist had inundated the PACER system with requests in September 2008 at the rate of one prompt every three seconds.
In less than three weeks, he managed to download more than 18 million pages with an estimated value of $1.5 million to his home in the Chicago suburb of Highland Park.
"As I hoped, it's truly delightful," Swartz wrote of his FBI file.
Swartz also had publicly discussed on his blog his battle with depression.
"There is a moment, immediately before life becomes no longer worth living, when the world appears to slow down and all its myriad details suddenly become brightly, achingly apparent," he wrote in a 2007 post on his blog.
The post ended with the protagonist killing himself by stepping out into the middle of the street.
Fellow technology activist Cory Doctorow met Swartz at 14 or 15 after he had already helped develop the RSS tool for users to get updates from blogs, news headlines and other online content. He later co-founded the social news website Reddit.
"In so many ways, he was an adult, even then, with a kind of intense, fast intellect that really made me feel like he was part and parcel of the Internet society," Doctorow wrote on the Boing Boing blog.
"But Aaron was also a person who'd had problems with depression for many years... Whatever problems Aaron was facing, killing himself didn't solve them. Whatever problems Aaron was facing, they will go unsolved forever."
In an angry online post, Harvard Law School's Safra Center for Ethics director Lawrence Lessig denounced federal prosecutors' "bullying."
"The question this government needs to answer is why it was so necessary that Aaron Swartz be labeled a 'felon,'" Lessig wrote.
In an earlier post, the scholar wrote: "there is no way to express the sadness of this day."
"To the co-creator of RSS, of the Creative Commons architecture, of part of Reddit and of endless love and inspiration and friendships, rest. We are all incredibly sorry to have let you down," he added.
Follow Emirates 24|7 on Google News.