Which Dubai communities offer best rental income: Top 7 revealed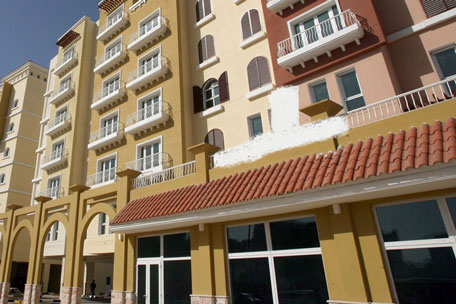 Rental yields in Dubai has always been among the highest in the world and a new report has reaffirmed this.
In a report, property portal Bayut.com said that studio units in Dubai Silicon Oasis (DSO) topped its rental yield chart.
The community offered a 11 per cent return in May, as average annual rent stood at Dh47,000.
Coming second was Dubai Sports City with average rentals at Dh50,000 per annum (pa) and a rental yield of 10 per cent.
Studio apartments in International Media Production Zone (IMPZ) and Jumeirah Village Circle offered average yields of 9 per cent, with average rents being Dh42,000 pa and Dh53,000 pa, respectively.
Discovery Gardens (Supplied)
In Discovery Gardens, rental return stood at 9 per cent as average annual rent at Dh47,000.
International City, one of the most affordable areas of Dubai, offered returns of 9 per cent with average lease rates at Dh31,000 pa.
Studio units in Motor City, leasing on average for Dh59,000 pa, provided rental yields of 9 per cent.
In January 2016, property consultancy Land Sterling said Discovery Gardens offered the maximum gross rental yield of 10.2 per cent in 2015 compared to 9.4 per cent in 2014, as average selling prices fell to Dh846 per square foot (psf), down 7 per cent, from Dh913 psf in 2014.
Chestertons Mena Managing Director Declan McNaughton says this is an apt time to lock a property that will bring good yields as property prices have corrected significantly over the last year.
"There is a general consensus in the industry that the market will remain subdued during 2016. However, this phase could provide good investment opportunities for the long term," he adds.
However, Global Property Guide, a website that compiles and analyses property price performance of the world's big economies, has put Dubai's rental income on average of 7.1 per cent.
In comparison, gross rental yields in Hong Kong are 2.82 per cent, India 2.22 per cent and Singapore 2.83 per cent, London between 2.72 per cent and 3.20 per cent.
In the UAE, banks do allow foreigners to open savings account, which can be used to deposit the rental cheques. Moreover, the rental income in the country is not taxable.
The top seven localities are:
· Dubai Silicon Oasis
· Dubai Sports City
· IMPZ
· JVC
· Discovery Gardens
· Motor City
· International City
Follow Emirates 24|7 on Google News.