Wild fires and hot winds; Australia braces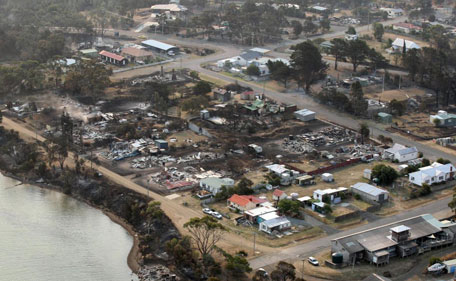 New wildfires flared across Australia on Tuesday as temperatures soared to near record levels, fanned by hot outback winds, and as Prime Minister Julia Gillard warned the nation to prepare for possibly its worst day of bushfires.

"This is a very dangerous day," Gillard told Australian television as temperatures along parts of the heavily-populated southeast coast soared by 15 degrees Celsius (59 Fahrenheit) by breakfast, bringing potentially catastrophic fire conditions.

"We of course are very concerned about these extreme weather conditions in New South Wales (state). The word catastrophic is being used for very good reason, So it is very important that people keep themselves safe," Gillard said.

The severe fire conditions forecast for Tuesday are expected to replicate those of 2009, when "Black Saturday" wildfires in Victoria state killed 173 people and caused $4.4 billion worth of damage.

After week of heatwave conditions bushfires are ablaze in five of Australia's six states, with more than 100 fires in the most populous state New South Wales (NSW), and in mountain forests around the national capital Canberra. More than 20 raged out of control.

Around 100 houses, the majority on the island state of Tasmania, have been destroyed by fire, but there have been no reports of deaths, although many people are still missing in fire affected areas of Tasmania.

New fires broke out early on Tuesday around Canberra, southern NSW and Tasmania, as temperatures spiked towards expected highs of 45 Celsius (113 Fahrenheit). Australia's biggest city Sydney recorded 40 Celsius (104 Fahrenheit) by early afternoon, despite its coastal position.

"The heat has been so intense that tar on the road has been melting and sticking to my shoes," retired Australian journalist Malcolm Brown said from central New South Wales.

Fire officials declared five areas of southern NSW as catastrophic, meaning if fires ignited they could not be controlled and advised people to evacuate.

But for some it was already too late to leave on Tuesday morning, with officials urging them to shelter indoors and try and protect themselves from the searing heat.

A record heatwave, which began in Western Australia on Dec. 27 and lasted eight days, was the fiercest in more than 80 years in that state and has spread east across the nation, making it the widest-ranging heatwave in more than a decade, according to the Australian Bureau of Meteorology.

Strong wind gusts had created a "dome of heat" covering much of the island continent, said climate experts.

Australia, the world's driest inhabited continent, is particularly vulnerable to bushfires, fuelled each summer by extreme heat and by what climate scientists say is creeping climate shift blamed for hotter average temperatures globally.

Authorities warned earlier in the Australian summer that much of the country faced extreme fire conditions this season, after several years of cooler conditions that had aided forest growth, but also created tinder dry fire fuel conditions.
Follow Emirates 24|7 on Google News.