Wild Thai tiger cub footage sparks hope for endangered species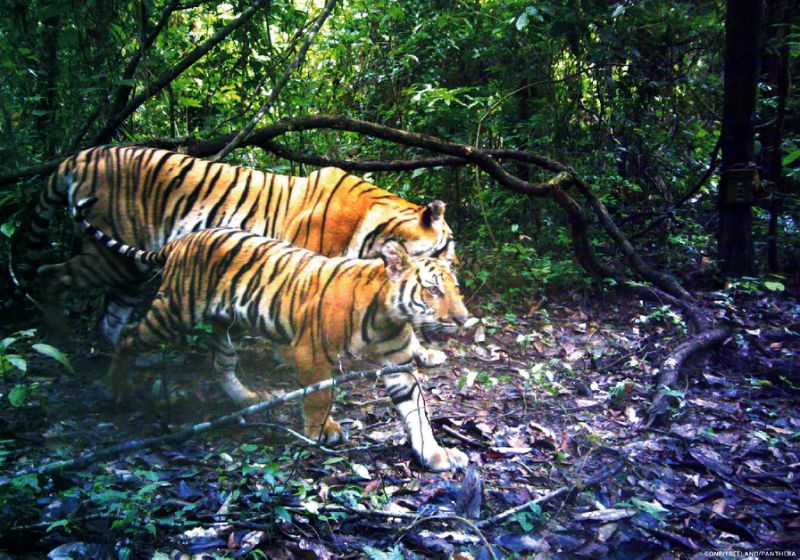 Conservationists on Tuesday hailed the discovery of a new breeding population of tigers in Thailand as a "miraculous" victory for a sub-species feared wiped out by poaching.
Images of four mothers and six cubs, captured by camera traps in an eastern Thai jungle throughout 2016, confirm the presence of what is only the world's second known breeding population of the endangered Indochinese tiger.
The last such tiger family was seen 15 years ago in a western forest corridor along Thailand's border with Myanmar.
"The extraordinary rebound of eastern Thailand's tigers is nothing short of miraculous," said John Goodrich, the tiger program director at Panthera, a wild cat preservation group that backed the survey.
The camera trap footage, which shows female tigers and their cubs traipsing through the leafy jungle, was captured with help from the anti-trafficking group Freeland and Thai park authorities.
Indochinese tigers, which are generally smaller than their Bengal and Siberian counterparts, once roamed across much of Asia.
But today only an estimated 221 remain in two countries, Thailand and Myanmar.
Aggressive poaching, weak law enforcement and habitat loss has rendered them all but extinct in southern China, Cambodia, Laos and Vietnam, according to scientists.
Tiger farms in places like Thailand and Laos have also boosted the trafficking trade by propping up demand for tiger parts, which are treasured as talismans and used in traditional medicines popular in China.
Conservationists applauded Thailand's counter-poaching efforts and warned that a commitment to tough law enforcement would be crucial to ensuing the new breeding population will thrive.
The hilly Dong Phayayen-Khao Yai forest complex, where two dozen cats have now been caught on some of the 156 cameras, still hosts a only modest tiger density of 0.63 tigers per 100 square kilometres.
It is a ratio on par with some of the most threatened tiger habitats in the world, according to Freeland, but still could mean there is a population of 23 of the big beasts roaming wild.
"It's crucial to continue the great progress made by the Thai government to bolster protection for tigers at the frontlines," said Kraisak Choonhavan, the group's board chairman.
"As long as the illegal trade in tigers continues, they will need protection."
Follow Emirates 24|7 on Google News.