Women protest over Berlusconi scandal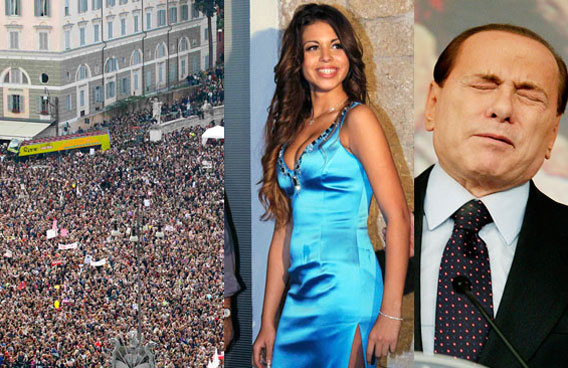 Hundreds of thousands of women rallied in Rome and other cities on Sunday, incensed by Prime Minister Silvio Berlusconi's sex scandal which they say has disgraced Italy.
"Women are offended. The image of our country that Berlusconi is presenting to the world is just unbearable," said 52-year-old Roberta Nicchiarelli, attending a rally in Rome.
The protests in more than 200 towns in Italy and even some cities abroad reflect growing anger among women at the prostitution scandal that has engulfed the premier, who has long counted conservative women among his key voters.
"I voted for him in the past, but I am really disappointed. I hope things will change," said former Berlusconi voter Pina.
Prosecutors filed a request on Wednesday to bring Berlusconi to trial, accusing him of paying for sex with a nightclub dancer when she was under 18, which is illegal in Italy.
The 74-year old premier has dismissed the accusations as "disgusting and disgraceful".
Leaked wiretaps from the investigation have been splashed over newspapers for weeks with references to bundles of cash, talk of sex games and gifts that would-be starlets received after attending parties at Berlusconi's villa.
"I love my boyfriend for free," read one banner in Rome, where crowds of women of all ages packed into a central square flanked by husbands, brothers and male friends.
"It's a scandal. I do not believe in his values, his behaviour and the way he treats women. Italy doesn't have a future if these are the values that sustain us," said Paolo Campedel, a worker attending a rally in Padua in northern Italy.
ONE-SIDED
Photos and videos of a growing list of young women from the fringes of show business alleged to be connected to Berlusconi have been plastered over Italian television and media web sites, often showing them in erotic poses or in their underwear.
Campaigners say the increasingly one-sided image of women as sex objects has promoted a culture in which women see selling their good looks as the only route to success in a country where a third of young people are unemployed.
"Big boobs, small hips, and always available: it's almost become a dictatorship because television, the newspapers, only present this model of women," said Lorella Zanardo, author of Il Corpo Delle Donne, a book about the image of women in the media.
The scandal in mainly Catholic Italy has revived opposition calls for Berlusconi to resign at a time when he is clinging to power after a split in the ruling PDL party last year.
But he has survived sex scandals in the past and some of his most staunch supporters attended pro-Berlusconi rallies earlier in the week, while branding Sunday's demonstration a puritanical and politically motivated ploy.
The women's protest follows several anti-Berlusconi rallies this week. President Giorgio Napolitano has warned political tensions are too high and told Berlusconi at a meeting on Friday that Italy risked facing new elections as a result.
Follow Emirates 24|7 on Google News.