World Social Forum starts as turmoil strikes Arab world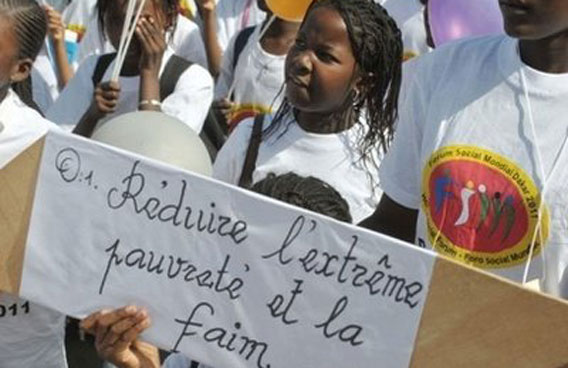 Tens of thousands of people marched through Dakar on Sunday at the start of the annual World Social Forum, an annual leftist gathering taking place as anti-government protests sweep the Arab world.
The 11th edition of the forum, an alternative to the elite World Economic Forum held in the posh Swiss ski resort of Davos last week, brings together anti-globalisation activists opposed to capitalism.
This year participants are focusing on the popular revolt spreading across northern Africa with demands for democracy and criticism of dire social conditions reflecting the crisis of capitalism.
Bolivia's leftist President Evo Morales told the crowd that capitalism was "dying in the face of a people's rebellion."
"There is a rebellion of the Arab peoples against US imperialism. The peoples' struggle is unstoppable. Even if the US government spends millions and millions to end these social movements, it is certain that they will not end.
"Capitalism is suffering a financial crisis, an energy crisis and is bringing us a food crisis. And it is the poor - be they farmers, workers or townspeople - who must pay for this crisis of capitalism."
Morale's 35-minute long speech, the longest of all speakers, was criticised by some marchers at the Forum which is meant to be apolitical.
Representatives from Arab countries currently gripped by popular protest, such as Egypt, took their place among marchers to demand the departure of authoritarian and dictatorial regimes.
"I am among those who demand the departure of (Egyptian President) Hosni Mubarak so that the blood in the peaceful protests of recent days was not spilled in vain," said Egyptian translator Asma El Batraoui Han, 68.
Commenting on events in Egypt and Tunisia - where street protests forced president Zine El Abidine Ben Ali to flee on January 14 - Moroccan trade unionist Mohamed Kabba, 65 said: "pressure from the streets, that is what gets results."
"What is happening in Tunisia shows that the people can become masters of their destiny whatever their means. It is perhaps this which Europe forgets," said French Socialist Party leader Martine Aubry.
Host Senegal is also facing growing anger over serious social and economic problems.
"In the darkness until when?," one placard read, in reference to the long power cuts exasperating all sectors of Senegalese society and which lead to spontaneous protests that often turn violent.
Banners and slogans on the fringes of the march denounced land grabbing, financial secrecy and looting of minerals - among the themes to be debated at the six day forum seeking alternatives to "the crisis of the capitalist system."
Hugo Chavez of Venezuela, Boni Yayi of Benin and Alpha Conde of Guinea as well as former Brazilian president Luiz Inacio Lula da Silva are also expected in Dakar.
This is the second time the Forum has come to Africa since its inception in Porto Alegre, Brazil in 2001. It was held in Nairobi in 2007.
"Africa is an example of the biggest failures of three decades of neo-liberal policies," according to the Forum's organisers.
"We do not decide. We analyze policies and we make alternative proposals," said Mignane Diouf, the Forum's chief organiser.
Follow Emirates 24|7 on Google News.