17 die as Syrian forces pound Homs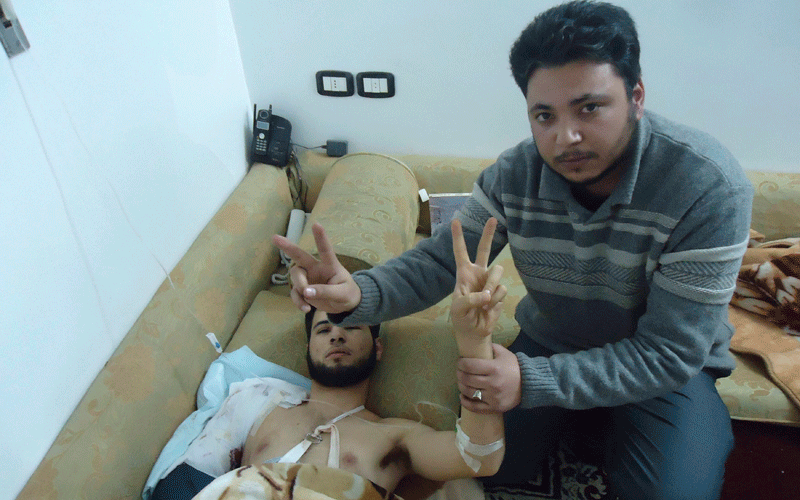 Syrian forces on Monday pounded powderkeg Homs with rockets and mortars, killing 17 people and wounding dozens amid growing outrage over a Russia-China veto of a UN resolution to stop the violence.
The opposition Syrian National Council said the regime had encircled the central city with tanks ahead of "a major offensive" and urged the international community to act quickly to prevent a new massacre.
But Syria's authorities blamed Monday's unrest on "terrorist gangs" which it said were targeting several neighborhoods of Homs with mortars.
A resident of the battered city told AFP that Monday's assault began shortly after 6:00 am (0400 GMT), with government troops firing off relentless barrages of rockets, mortars and artillery shells.
"What is happening is horrible, it's beyond belief," said Omar Shaker, an activist reached by telephone. The sound of gunfire and loud explosions could be heard in the background as he spoke.
"There is a large number of martyrs," he said. "It is the first time we are undergoing attacks of such intensity."
Shaker said activists were transporting the wounded to the city's mosques.
"There is nowhere to take shelter, nowhere to hide," he said. "We are running short of medical supplies and we are only able to provide basic treatment to the injured."
The Syrian Observatory for Human Rights said at least 17 people were killed but added that the death toll was likely to rise as many of the dozens wounded in the assault sustained critical injuries.
The new raids, which were concentrated in the neighborhoods of Khaldiyeh, Baba Amro, Inshaat and Bab Sbaa, followed what activists said was a "massacre" in the city overnight Friday and a weekend of further shelling.
A video posted by activists on YouTube apparently showed a field hospital hit by the shelling in Baba Amro, one of the main targets of Monday's assault.
Wounded patients could be seen laying on stretchers on the floor amid pools of blood and shattered glass.
The authenticity of the video could not immediately be verified.
"Let the Arabs and Muslims come and see this, this is a result of their inaction," said Mohamed Mohamed, who identified himself as a doctor at the hospital.
Arabic satellite channels broadcast images from Homs which showed plumes of smoke billowing into the sky, as calls to prayer went out from mosques across the battered city.
The violence comes as Western powers vow to seek new ways to punish Damascus amid growing outrage over the veto by Russia and China of a UN resolution condemning Syria for its deadly crackdown on nearly 11 months of protests.
The vetoes on Saturday had handed President Bashar al-Assad's regime a "licence to kill," according to the Syrian National Council.
The second UN double veto in four months also fuelled angry reaction from Washington, with US Secretary of State Hillary Clinton calling it a "travesty" and vowing to push for new sanctions on Syria.
France's outspoken Defence Minister Gerard Longuet for his part said China and Russia deserve a "kick in the ass."
"It is a disgrace for countries to refuse to assume their responsibilities," Longuet told French radio.
"Frankly, there are some political cultures that deserve a kick in the ass."
But Russia and China both defended their vetoes, with Moscow condemning as "hysterical" the West's angry reaction.
"Some comments from the West on the UN Security Council vote, I would say, are indecent and bordering on hysteria," Foreign Minister Sergei Lavrov told reporters. "Such hysterical comments are aimed at suppressing what is actually happening."
Lavrov and Foreign Intelligence Service chief Mikhail Fradkov are to visit Damascus on Tuesday, as news reports said the mission could try to push Assad to quit.
"Russia strongly intends to achieve a rapid stabilisation of the situation in Syria through the rapid implementation of much-needed democratic reforms," the Russian foreign ministry said earlier.
China also rejected criticism while calling on both sides to the conflict to halt the violence that has claimed the lives of more than 6,000 people since March, according to rights groups.
"China does not accept the accusations" of the United States on the Syrian veto, foreign ministry spokesman Liu Weimin told reporters.
"China does not have its own selfish interest on the issue of Syria. We don't shelter anyone. We uphold justice on the Syrian issue."
In other violence on Monday, at least one person was killed and 17 injured in shelling by government troops on the town of Zabadani, near the capital Damascus, the Observatory said.
One person was also reported killed by gunfire in the northern province of Aleppo and two civilians, including a child, died when their car came under fire from security forces at Sarghaya, near Damascus, it said.
Follow Emirates 24|7 on Google News.