2 more bodies found on ship, 3 people rescued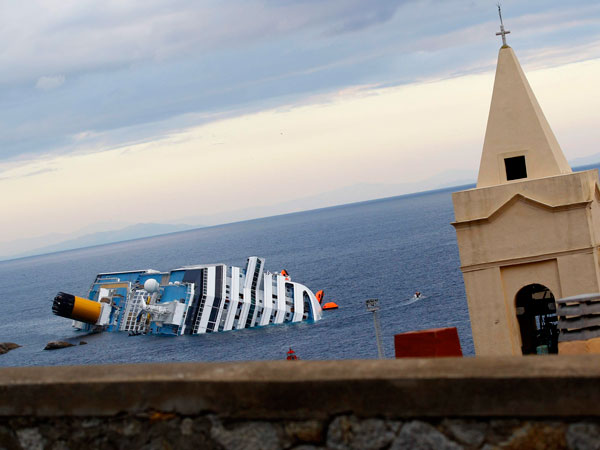 Three survivors and two more dead bodies were pulled from the partially submerged wreck of a cruiseliner off the Italian coast, while a search continued though thousands of cabins for 15 people still missing.
In the early hours of Monday, the massive 114,500 tonne Costa Concordia wallowed on its side only metres from the picturesque Tuscan port of Giglio, with rescuers continuing a painstaking search for survivors or bodies.
The 290-metre long vessel, a multistorey floating resort carrying 4,229 passengers and crew, foundered and keeled over after being holed by a rock on Friday night. A total of 64 people were injured in the accident, health authorities said.
Sunday's discovery of the bodies of a Spanish and an Italian man, both wearing life jackets, brought the known death toll to five. The bodies of two French tourists and a Peruvian crewmember were found on Saturday.
Rescuers plucked a South Korean honeymoon couple and an injured crewmember alive from the wreck on Sunday. But as time passed, the prospects of finding more passengers alive grew ever more uncertain.
The ship's captain, Francesco Schettino, was arrested on Saturday on charges of manslaughter, causing a shipwreck and abandoning ship. The first officer was also detained.
The ship's owners, Costa Crociere said Schettino appeared to have made a serious error in coming too close to shore and had not followed standard emergency procedures.

"The route followed by the ship was too close to the coast and it seems that his decisions on the management of the emergency did not follow the procedures of Costa Crociere, which are in line with and in some cases go beyond international standards," said the company, a unit of Carnival Corp. & Plc , the world's largest cruiseliner operator.
Investigators were working through evidence from recorders - the equivalent of the "black boxes" carried on planes - to try to establish the precise sequence of events behind the accident, which occurred in calm seas and shallow waters.
Searching the vast ship for survivors was like combing through a small town - but one tilted on its side, largely in darkness, partly underwater and full of floating debris.
The discovery of the bodies on Sunday dampened earlier euphoria when a helicopter lifted off injured chief purser Manrico Gianpetroni, hours after rescuers made voice contact with him deep inside the stricken, multi-storey vessel.
Gianpetroni, who had a broken leg, was winched up from the ship on a stretcher and taken to hospital.
"I never lost hope of being saved. It was a 36-hour nightmare," he told reporters.
As the search for survivors and bodies continued, attention began to turn to the wreck itself, which loomed over the little port of Giglio, a picturesque island in a maritime nature reserve off the Tuscan coast.
Dutch salvage experts said the ship's oil tanks did not appear to have been holed, reducing the risk of an oil spill in the pristine waters, and dredgers were expected to begin pumping some 2,380 tonnes of fuel from the ship in the next few days.
However dealing with the ship itself is likely to prove a daunting task and will need extremely careful planning, coastguard official Ilarione dell'Anna told SkyTG24 television.
"This will not be simple," he said. "The alternatives are removing it, refloating it or not removing it but leaving it in place and cutting it into sections."
Paolo Tronca, a local fire department official, said the search would go on "for 24 hours a day as long as we have to" and that rescue workers were using sniffer dogs in the section of the ship above water.

As the search continued, there were demands for explanations of why the vessel had come so close to the shore and bitter complaints about how long it took to evacuate the terrified passengers.
Costa Crociere expressed "deep sorrow" for the accident. It said all the crew members had been properly trained in safety procedures and the ship was fully equipped with lifevests, medical supplies and other safety equipment.
State prosecutor Francesco Verusio said investigations might go beyond the captain, who he said had abandoned the vessel not long after midnight, before all the passengers were taken off.
"We are investigating the possible responsibility of other people for such a dangerous manoeuvre," he told SkyTG24 television. "Command systems did not function as they should."
He said the ship had come within 150 metres (yards) of the coast, which he called "incredibly close".
Schettino has told Italian television that the ship hit rocks that were not marked on maps and were not detected by navigation systems. He said the accident occurred some 300 metres from the shore.
Agnese Stella, a 72-year-old housewife who has lived on Giglio for 50 years said the ship appeared to have come much closer in than it normally did.
"It came much too close, it never comes this close normally," she told Reuters.
Follow Emirates 24|7 on Google News.