50,000 people in Kenya get safe, affordable drinking water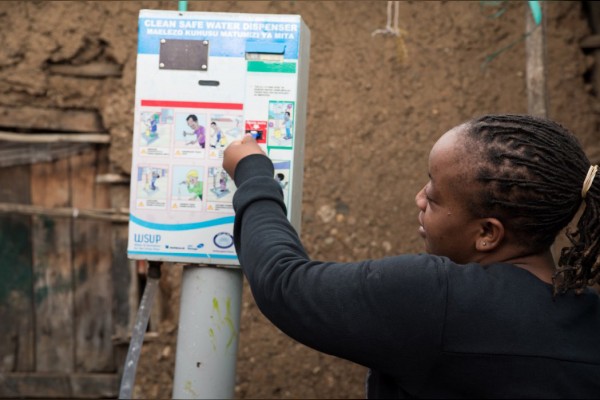 A two-year project to bring safe, affordable drinking water to more than 50,000 of the poorest residents of Nairobi, Kenya, has now been inaugurated after its successful completion earlier this year.
The initiative was co-funded by the OPEC Fund for International Development, OFID, the UK Government's Department for International Development, Borealis and Borouge, through their joint corporate social responsibility programme, "Water for the World ". Water and Sanitation for the Urban Poor, WSUP, was responsible for its implementation and project management.
An estimated 60 percent of Nairobi's population live in informal settlements with little access to water and sanitation. The Nairobi City Water and Sewerage Company has previously found it difficult to invest in these services due to the haphazard design of these settlements.
The five partners came together to improve drinking water supplies in Nairobi's Korogocho and Kahawa Soweto informal settlements. The initiative extended the existing network into the settlements, using high-quality polyethylene (PE) pipes.
"Innovative PE pipes can play an important role in addressing the global water challenge," said Dorothea Wiplinger, Borealis Sustainability Manager. "To avoid the loss of water due to leakages and assure residents receive clean water that they can afford, PE pipes are an excellent solution because they last three times longer than existing pipes, suffer fewer breakages and need less maintenance," she added.
"In line with our sustainability goals, we are committed to addressing global challenges and adding value to people's lives through sustainable plastics solutions," said Craig Halgreen, Vice President of Corporate Sustainability at Borouge.
"At Borouge, we have experience in developing sustainable water systems for all kinds of environments, and we are delighted to have supported this initiative based on our high-quality polyethylene materials," he added.
Suleiman J. Al-Herbish, OFID Director-General, said, "OFID's contribution to the water and sanitation sector reached USD1,151 million as of the year-end of 2016. These resources have supported a wide range of operations, from large-scale water storage, treatment and distribution projects to village pumps and school latrines, as well as schemes for the rationalisation of water use in arid regions. We are proud to have been part of this project, and will continue to support sustainable development across the globe."
"WSUP works with local providers to help them deliver the water and sanitation services and infrastructure that are so desperately needed by low-income urban communities," explained Bill Peacock, WSUP's Director of Programmes. "This project is a great example of how multi-sector partners can join forces and contribute their expertise, to make a real difference to people's lives," he added.
The official inauguration took place on 5th May, 2017, and was attended by Engineer Philip Gichuki, Managing Director of the Nairobi City Water and Sewerage Company, and Engineer Kimori, County Executive Committee Member for Water, Energy and Forestry at Nairobi City County.
Follow Emirates 24|7 on Google News.