A million Egyptians ask Mubarak to leave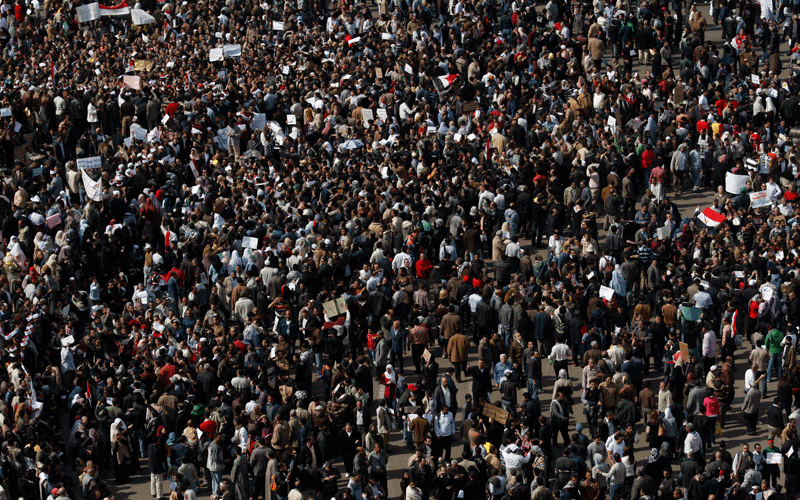 At least one million people rallied across Egypt on Tuesday clamouring for President Hosni Mubarak to give up power, piling pressure on a leader who has towered over Middle East politics for 30 years to make way for a new era of democracy in the Arab nation.
Cairo's Tahrir (Liberation) Square was jammed with people ranging from lawyers and doctors to students and jobless poor, the crowd spilling into surrounding streets.
Crowds also demonstrated in Alexandria, Suez and in the Nile Delta in the eighth and biggest day of protests against Mubarak by people fed up with years of repression, corruption and economic hardship.
"He goes, we are not going," chanted a crowd of men, women and children as a military helicopter hovered over the sea of people in the square, many waving Egyptian flags and banners.
With the army refusing to take action against the people and support from long-time backer the United States fading, the 82-year-old strongman's days seemed numbered.
His downfall after three decades could reconfigure the geopolitical map of the Middle East, with implications from Israel to oil-giant Saudi Arabia. Unrest is already stirring in other Arab countries such as Jordan and Yemen.
The opposition, embracing the banned Islamist group the Muslim Brotherhood, Christians, intellectuals and others, began to coalesce around the figure of Mohamed ElBaradei, a Nobel Peace laureate for his work as head of the U.N. nuclear agency.
ElBaradei said on Tuesday Mubarak must leave Egypt before the reformist opposition would start talks with the government on the future of the Arab world's most populous nation.
"There can be dialogue but it has to come after the demands of the people are met and the first of those is that President Mubarak leaves," he told Al Arabiya television.
Gauging the numbers of protesters was difficult but Reuters reporters estimated it had hit the million mark that activists had called for.
"Mubarak wake up, today is the last day," they shouted in Alexandria.

ARMY HANDS OVER STREET
Mubarak's grip looked ever more tenuous after the army pledged on Monday night not to confront protesters, effectively handing over the streets to them.
The army, a powerful and respected force in Egypt, said troops would not open fire on protesters and that they had legitimate grievances and a right to peaceful protest.
Soldiers in Tahrir Square erected barbed wire barricades but made no attempt to interfere with people. Tanks daubed with anti-Mubarak graffiti stood by.
Barbed wire barricades also ringed the presidential palace, where Mubarak is believed to be hunkered down.
"We have done the difficult part. We have taken over the street," said protester Walid Abdel-Muttaleb, 38. "Now it's up to the intellectuals and politicians to come together and provide us with alternatives."
Effigies of Mubarak were hung from traffic lights. The crowds included men, women and children from all walks of life, showing the breadth of opposition to Mubarak.
The demonstration was an emphatic rejection of Mubarak's appointment of a new vice president, Omar Suleiman, a cabinet reshuffle and an offer to open a dialogue with the opposition.

US SENDS ENVOY
Analysts said behind the scenes a transition was already under way but the military top brass would want to grant Mubarak a graceful exit.
"It is possible that people might accept an interim military leader for a short period of time -- although not Suleiman. But not for as long as six months," Maha Azzam, a Middle East expert at Chatham House thinktank in London. An election scheduled for September might have be to brought forward.
US special envoy Frank Wisner, a former ambassador to Cairo, has been sent to Egypt to meet leaders.
The United States and other Western allies were caught out by the uprising of a stalwart ally who has been a key figure in Middle East peace moves for decades.
Washington called for reforms and free elections but is also concerned that Islamists could gain a slice of power should Mubarak be forced out.
The prospect of a hostile neighbour on Israel's western border also worries Israeli Prime Minister Benjamin Netanyahu. He said he hoped Israel's 1979 peace treaty with Egypt would survive any changes that took place.
But pressure on Mubarak also came from elsewhere.
Turkish Prime Minister Tayyip Erdogan said Mubarak should listen to the people's demands. The solution to political problems lay in the ballot box, he said.
The British government said it was disappointed by the new cabinet as its members were unlikely to produce the kind of political change demanded by the country's citizens.
Popular demands for more democracy could sweep across the Arab world from Yemen to Jordan, Morocco to Saudi Arabia.
"I think all of these regimes are beginning to feel cornered. What is happening in Egypt is really lighting a fire across the whole region," said Chatham House's Azzam.
"The problem is that the West has relied on these authoritarian regimes for too long. There is a lot of anger and now it is spilling over."
Protesters were inspired in part by a revolt in Tunisia which toppled its president Zine al-Abidine Ben Ali on Jan. 14. But years of repression have left few obvious civilian leaders able to fill any gap left by Mubarak's departure.
The military, which has run Egypt since it toppled King Farouk in 1952, will be the key player in deciding who replaces him. Analysts expect it to retain significant power while introducing enough reforms to defuse the protests.
Armed forces chief of staff Sami Enan could be an acceptable leader, a member of the Muslim Brotherhood said.
Enan, who has good ties with Washington, was a liberal who could be seen as suitable by the nascent opposition coalition, prominent overseas cleric Kamel El-Helbawy told Reuters.
"He can be the future man of Egypt," Helbawy said. "The people do not know him (as corrupt)."

MUSLIM BROTHERHOOD EMERGES
The hitherto banned Brotherhood stayed in the background early in the uprising but is now raising its profile. Analysts say it could do well in any election.
At least 140 people have died since demonstrations began last Tuesday, most in clashes between protesters and police.
The crisis has prompted bursts of risk aversion on financial markets over the past few days but on Tuesday investors shifted focus as improved economic data and corporate results in the developed world lifted stocks.
The price of oil, the most sensitive indicator of market unease about Egypt, eased although Brent crude was still a few cents above $100 a barrel.
Follow Emirates 24|7 on Google News.