Airports close as Europe shivers in fresh snows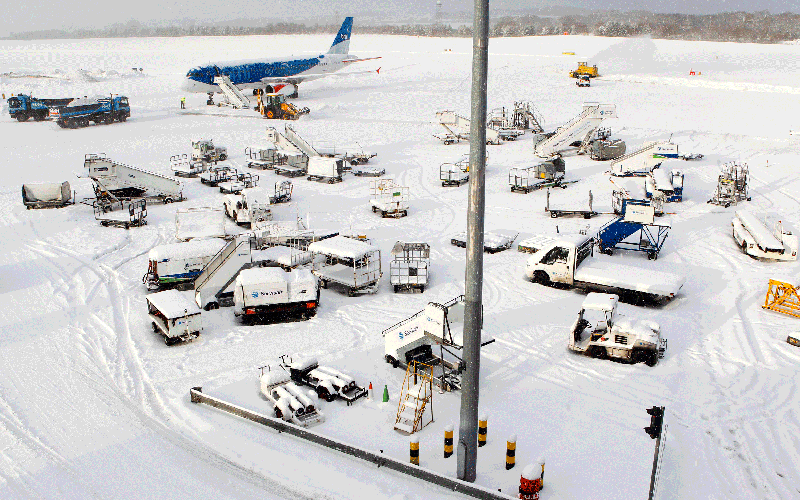 More heavy snowfalls forced the closure of some of Europe's busiest airports and chaos on the roads Wednesday as forecasters warned there would be no let-up in the freezing temperatures until next week.
Temperatures dropped to as low as minus 18 degrees Celsius (minus 0.4 degrees Fahrenheit) in some parts of Germany, while driving rain in Italy triggered the collapse of two Roman walls in Pompeii and flooding in Venice.
Britain, shivering in the earliest widespread snowfalls of winter since 1993, was one of the countries worst affected with two of its major transport hubs scrapping all flights.
London's Gatwick Airport, Europe's eighth busiest passenger air hub, was shut until at least 0600 GMT Thursday as staff worked to clear the two runways. Edinburgh Airport, Scotland's busiest, was also shut due to heavy snow showers.
A spokeswoman for Gatwick said they had about six inches (15 centimetres) of snow to clear.
"We brought in extra people to try to clear the runway. We had a vast army of people. But as fast as they were clearing the snow, the quicker it settled again," she said.
Heavy snowfall also forced the closure of Geneva International Airport where around 100 stranded passengers had to spend the night in the terminal while 200 others were sheltered by the civil protection unit as hotels were fully booked.
Around 60 flights at Frankfurt airport, Europe's third busiest, were cancelled as the number of takeoffs on one of the airport's runways had to be reduced because of high winds. On Tuesday almost 300 flights were scrapped.
Snow and freezing temperatures also forced French aviation authorities to cancel 116 flights from Lyon airport.
There were similar widespread problems on the roads in large parts of western Europe.
Part of the M25, the London orbital motorway, was shut while there were severe delays on the M1 and A1 main routes linking London with the north.
In Scotland, the Forth Road Bridge connecting Edinburgh with the north was closed.
In Italy, snowfalls disrupted traffic in city centres and on motorways in the northern Lombardy and Piedmont regions, while in Emilia-Romagna the Civil Protection Agency issued a bad weather warning until Wednesday evening.
Snowdrifts and fallen trees also caused traffic problems in Germany as well as schools closures in parts of the northern state of Schleswig-Holstein.
The Bild daily said that it was the coldest December 1 in several hundred years, with temperatures as low as minus 18 degrees Celsius (minus 0.4 degrees Fahrenheit) in some places.
The mercury fell in even lower in parts of Scotland with an overnight low of minus 19.8 degrees Celsius (minus 3.6 degrees Fahrenheit) recorded in Altnaharra in the Highlands.
Temperatures were expected to remain below freezing across Scotland on Wednesday and forecasters warned more snow would blanket Britain over the weekend as hundreds of schools remained closed.
Eurostar, which operates high-speed passenger trains linking London with Paris and Brussels, said precautionary speed restrictions would result in delays, with the knock-on effect that some services would be cancelled.
Two trains between London and Brussels and four between London and Paris were scrapped, with further cancellations planned for Thursday.
Across the country, train services between major cities like Liverpool and Sheffield were unable to run, while commuter services into London were also facing severe disruption.
As well as the snow, other parts of Europe were lashed by heavy rainfall.
Tourists in Venice had to don their gumboots as the city was flooded while a flood warning was issued in Rome.
Further south, two ancient Roman walls fell down in the archaeological site of Pompeii due to persistently heavy rains which have lashed the site in recent weeks, wearing away the ancient mortar between the stones.
The latest incident follows the collapse of a twelve-metre (40-foot) -long wall on Tuesday and the cave-in of a frescoed house last month.
Follow Emirates 24|7 on Google News.