American citizen sentenced to death in Iran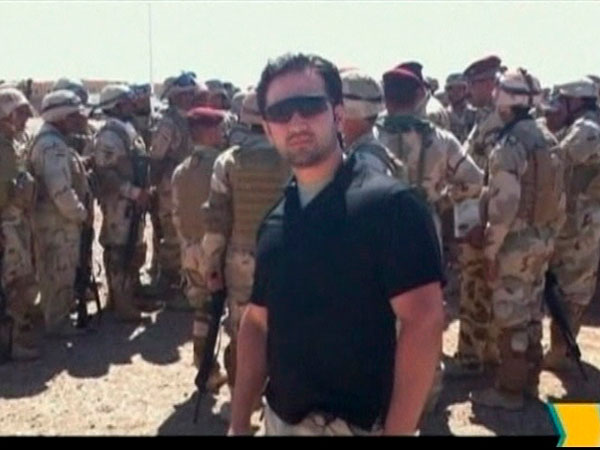 Iran announced on Monday it had sentenced a dual US-Iranian citizen to death for spying for the CIA, creating fresh grounds for hostility with Washington at a time when Tehran has responded to new US sanctions with military threats.
The United States denies that Arizona-born Amir Mirza Hekmati is a spy, and has demanded his immediate release. Washington says Hekmati has been denied access to Swiss diplomats, who represent US interests in a country where it has had no mission since its embassy was stormed in 1979.
Iran has accused Hekmati of training with the U.S. military as a spy. It aired a televised confession, denounced by Washington, in which he said he worked for a New York-based video game company designing games to manipulate public opinion in the Middle East on behalf of US intelligence.
"Amir Mirza Hekmati was sentenced to death ... for cooperating with the hostile country America and spying for the CIA (Central Intelligence Agency)," ISNA news agency quoted judiciary spokesman Gholamhossein Mohseni-Ejei as saying.
"The court found him Corrupt on the Earth and Mohareb (one who wages war on God). Hekmati can appeal to the Supreme Court."
The sentence comes at a time when tension between Iran and the West over Tehran's nuclear programme has reached a new high, rattling global oil markets. The West fears the work is a secret atomic weapons programme, while Iran says it is purely peaceful.
Iran has aired a television confession - denounced by Washington - in which Hekmati said he worked for a New York-based video company designing games to manipulate public opinion in the Middle East on behalf of US intelligence.
AFP reports say that the United States on Monday condemned the death sentence handed to US-Iranian ex-Marine Amir Mirzai Hekmati in Iran and said allegations that he worked for the CIA were "false."
"We have seen Iranian press reports that Mr Hekmati has been sentenced to death by an Iranian court. If true, we strongly condemn such a verdict and will work with our partners to convey our condemnation to the Iranian government," said National Security Council spokesman Tommy Vietor.
Hekmati, a 28-year-old former US Marine born in the United States to an Iranian family, was "sentenced to death for cooperating with a hostile nation, membership of the CIA and trying to implicate Iran in terrorism," a judge in Tehran ruled, according to reports by the Fars and ISNA news agencies.
The ruling further ratcheted up a war of words between Iran and the United States as tensions flare over Tehran's nuclear program and an Iranian threat to close the crucial Gulf of Hormuz oil transit route.
"The Iranian regime has a history of falsely accusing people of being spies, of eliciting forced confessions, and of holding innocent Americans for political reasons," Vietor said.
He called on Iran to offer immediate access for Swiss diplomats who take care of American consular issues in Iran to Hekmati, and for him to be provided with legal counsel and released.
After years of sanctions that had little real impact on the Iranian economy, US President Barack Obama signed a new measure into law on New Year's Eve that, if fully implemented, would prevent most countries from buying Iranian oil.
The European Union, which still buys about a fifth of Iran's oil, is poised to announce an embargo at the end of this month, and other countries will have to cut purchases of Iranian crude to receive waivers from the US sanctions. Buyers are demanding steep discounts to do business with Tehran, cutting the revenue it needs to feed its 74 million people.
Iran has remained defiant. In a televised speech on Monday, Supreme Leader Ayatollah Ali Khamenei said: "Sanctions imposed on Iran by our enemies will not have any impact on our nation."
"The Iranian nation believes in its rulers."
Follow Emirates 24|7 on Google News.