Anti-racism protesters crash anti-EU UKIP election launch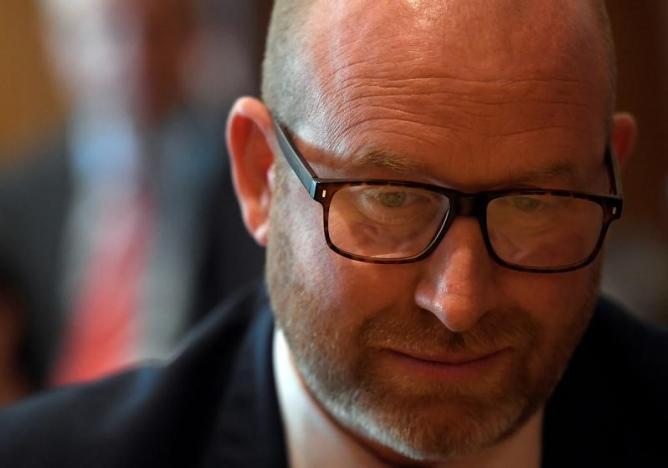 The election campaign launch of Britain's euroskeptic UK Independence Party got off to a troubled start on Friday, when protesters accused its leader Paul Nuttall of promoting racist propaganda after he promised to ban full face veils.
UKIP, whose former leader Nigel Farage helped drive support for Brexit before last year's referendum, was once seen as a threat to the ruling Conservative Party. But since Britain voted to leave the European Union, its poll ratings have almost halved from the 12.6 percent votes it won at the 2015 election.
Earlier this week, the party came under fire, including from several of its own senior members and former major donor Arron Banks, over a plan to ban full face veils as part of its pitch to voters ahead of the June 8 election.
Television footage showed a man shouting that the party was putting forward "racist propaganda", while another man was shown being ushered out by security as he accused UKIP of ejecting a woman in a hijab from the event in central London.
A Reuters witness said there were a handful of protesters at the event, which eventually went ahead with the protesters shut outside.
After the delay, Nuttall promised "a bold and radical manifesto", repeating the pledge to ban face coverings, alongside other policies including reducing immigration and cutting the foreign aid budget.
One of the protestors, Weyman Bennett, called Nuttall "a famous liar".
"One of the problems we have to deal with is to make sure that those lies do not impact on British society in terms of leading to division, we want unity, we don't want division," Bennett told reporters.
Asked if the protesters were right that the party was racist, Nuttall said: "No they are not right."
"It is disappointing that certain people in politics don't want to debate, what they want to do is to shout people down in an almost aggressive fashion and we're above that," he said, adding that UKIP members and candidates would not act in such "an undemocratic and abhorrent fashion".
Britain has seen a spike in hate crimes since last June's Brexit vote, before which concerns about the level of immigration were a key part of the campaign.
A YouGov poll carried out after the UKIP pledge this week found 48 percent of voters would support a ban on wearing a full body and face veil, while 42 percent said people should be able to decide for themselves what to wear.
Follow Emirates 24|7 on Google News.