Arab League warns of civil war in Syria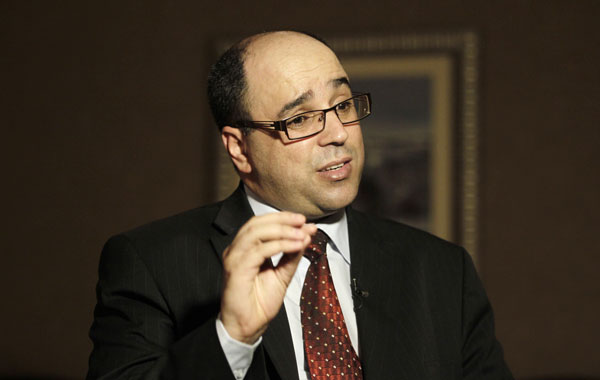 Arab League head Nabil Elaraby said on Friday he feared a possible civil war in Syria that could have consequences for neighbouring countries, as the credibility of the League's monitoring mission was hit by members starting to walk out.
An Algerian former monitor said several monitors had left Syria or might do so soon because the mission had failed to halt President Bashar Al Assad's violent crackdown on a popular revolt against his rule.
"Yes I fear a civil war and the events that we see and hear about now could lead to a civil war," said Elaraby, whose body deployed the monitors on Dec. 26 to check whether Syria was respecting an Arab peace plan.
"Any problems in Syria will have consequences for the neighbouring states," he said in an interview with the Egyptian Al Hayat television channel.
He described reports from the mission head as "worrying", but said there was "no doubt that the pace of killing has fallen with the presence of the observers".
Syrian opposition groups say the monitors, due to present their findings to the Arab League's foreign ministers on Jan. 19-20, have only bought Assad more time to crush protests that erupted in March, inspired by Arab uprisings elsewhere.
"(The ministers) will decide whether there is any benefit in continuing or not," said Elaraby.
The monitors resumed work on Thursday, a League official said, for the first time since 11 were injured by pro-Assad demonstrators in the port of Latakia three days previously, an attack that also sidelined plans to expand the team.
SHARED CHAGRIN
Anwar Malek, an Algerian who quit the monitoring team this week, said many of his former colleagues shared his chagrin.
"I cannot specify a number, but many. When you talk to them their anger is clear," he told Reuters by telephone, adding that many could not leave because of orders from their governments.
He said a Moroccan legal specialist, an aid worker from Djibouti and an Egyptian had also left the mission.
Their departures could not immediately be confirmed. But another monitor, who asked not to be named, told Reuters he planned to leave Syria on Friday. "The mission does not serve the citizens," he said. "It doesn't serve anything."
The British-based Syrian Observatory for Human Rights said at least 21 people were killed across the country on Thursday. Seven died in the eastern city of Deir Al Zor when security forces opened fire and the bodies of seven security force members were delivered to a hospital in the town of Maarat Al Noman, apparently killed in clashes with army deserters.
The Arab League is divided over Syria, with Qatar its most vocal critic and Algeria defending steps taken by Damascus.
The mission, the first of its kind the League has mounted, is led by Sudanese General Mohammed Al Dabi, who has come under fire from rights groups over his role in the Darfur conflict.
U.S. Secretary of State Hillary Clinton, speaking after talks in Washington with Algerian Foreign Minister Mourad Medelci, stressed "the need to end the Assad government's assault on its own people".
Medelci, who had earlier said that the Assad government had taken steps to defuse the crisis, said he and Clinton had a "concurrence of views".
BLOODY HANDLING
Assad, breaking a six-month public silence on Tuesday, disparaged the Arab League, which suspended Syria in November over its bloody handling of the unrest. He blamed the upheaval on "terrorists" whom he would punish with an iron fist.
The conflict in Syria, in which insurgents have joined what began as a mostly peaceful movement to end 41 years of Assad family rule, has killed more than 5,000 people, by a UN tally. The government says 2,000 soldiers and police have been killed.
A French journalist, Gilles Jacquier, was among nine people killed in the rebellious city of Homs on Wednesday in what the state news agency SANA said was a mortar attack by "terrorists".
Jacquier, the first Western reporter killed in Syria in 10 months of unrest, was in a government-escorted media group visiting a pro-Assad neighbourhood of the divided city, which has been racked by protests, crackdowns and sectarian violence.
As with three deadly explosions in Damascus in the past few weeks, Assad's critics have suggested the authorities staged the Homs attack to reinforce their argument that Syria is facing foreign-backed militants, not a broad pro-democracy revolt.
"This killing is indicative of the transition of the Syrian regime from preventing press from freely working and covering the events in Syria to killing journalists and media personnel, in an attempt to silence neutral and independent media sources," the opposition Syrian National Council said in a statement.
Syrian border guards turned away a protest convoy of about 150 Syrian expatriates from Europe, North America and the Arab world on Thursday who were trying to enter the country to draw attention to civilians caught up in the unrest.
Qatari Prime Minister Sheikh Hamad bin Jassim Al Thani, who heads the Arab League committee on Syria, said doubts were growing about the effectiveness of the monitors.
"I could not see up until now a successful mission, frankly speaking," he told a joint news conference with Clinton in Washington. "We hope we solve it, as we say, in the house of the Arabs, but right now the Syrian government is not helping us."
Any admission that the monitoring mission has failed will pile pressure on the Arab League to refer Syria to the UN Security Council, although a Western diplomat there said Algeria, Iraq and Egypt were likely to oppose such a step.
Western powers say Russia, a long-standing ally of Damascus, has blocked any tough moves by the council against Damascus and only a direct appeal by the League could shift Moscow's view.
Follow Emirates 24|7 on Google News.