Army fires shots; US, UK, UN deplore violence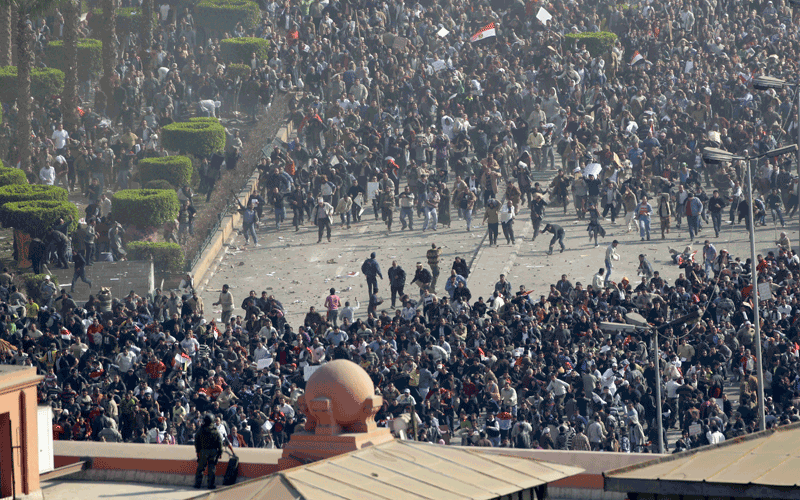 Egyptian troops fired warning shots at the main rally against President Hosni Mubararak in central Cairo on Wednesday in a bid to end clashes with regime supporters and the protesters reacted jubilantly, an AFP correspondent reported.
"The army and the people are hand in hand," the crowd shouted after dozens were injured in running battles between pro- and anti-Mubarak demonstrators on Cairo's central Tahrir Square.

The army has positioned its tanks and troops around the square but this is thought to be the first time they have opened fire since they were deployed on Friday and police vanished from the capital's streets.
Meanwhile, UN Secretary-General Moon ki-Ban in London said any attack against peaceful demonstrators is unacceptable.
The White House deplored and condemned violence against peaceful protests in Cairo and said it was deeply concerned about attacks on the media. "The United States deplores and condemns the violence that is taking place in Egypt, and we are deeply concerned about attacks on the media and peaceful demonstrators. We repeat our strong call for restraint," White House spokesman Robert Gibbs said in a statement.
UK Prime MInister David Cameron said it is unacceptable if Egypt regime is sponsoring or tolerating violence in any way
An Egyptian opposition coalition called on Wednesday for more protests and said it would only negotiate with Vice- President Omar Suleiman if President Hosni Mubarak stepped down.
Meanwhile, major violence broke out between pro- and anti-Mubarak protesters in Cairo's central Tahrir Square on Wednesday, with demonstrators throwing stones at each and several people hurt, witnesses said.
The clashes broke out when supporters of embattled Egyptian President Hosni Mubarak marched into an anti-regime rally in the square, an AFP correspondent reported.
Thousands of protesters from both sides were in the square, the epicentre of opposition demonstrations now in their ninth day.
Several groups were involved in fist fights, and some were using clubs, the correspondent said.
Opposition activists said that plain-clothes policemen had also entered Tahrir Square.
"The opposition forces are ready to negotiate with Vice President Omar Suleiman only after Mubarak steps down," said spokesman Mustafa Naggar, reading from a statement the coalition had prepared.
Mubarak has authorised Suleiman to begin talks with opposition groups.
"We call on the people to continue protesting in Tahrir Square and we ask everyone to participate in the 'Friday of Departure', to march from all governorates in Egypt to Cairo's Tahrir Square, the People's Assembly and the television building," the coalition said.
The coalition includes the National Association for Change headed by Mohamed ElBaradei, the Muslim Brotherhood and other groups.
Mubarak supporters charge on 'horses, camels'
Supporters of President Hosni Mubarak charged anti-regime protesters in Cairo on horses and camels on Wednesday, before being surrounded and dragged from their animals, an AFP correspondent said.
Follow Emirates 24|7 on Google News.