Arrests as protesters breach Syrian embassy in London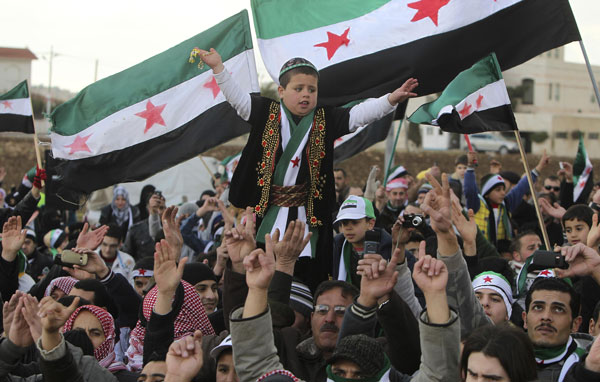 Five men were arrested Saturday after gaining entry to the Syrian embassy in London, police said, as protesters demonstrated outside the building.
Around 150 protesters gathered outside the plush property in Belgrave Square, one of central London's finest squares, which houses a string of embassies.
A Scotland Yard spokesman said the arrests were for public order offences after the demonstration broke out at around 2.00am (0200 GMT).
The spokesman said "appropriate policing" was now in place.
The demonstration occurred amid reports that Syrian forces killed at least 217 civilians, including women and children, in a "massacre" in the central city of Homs, ahead of a United Nations vote on the repression.
"Officers are at the scene and appropriate policing is in place," the Scotland Yard spokesman said.
"Five males gained entry to the building. They have now been arrested."
The BBC said embassy windows had reportedly been smashed and demonstrators reported being prevented from leaving by the police.
Meanwhile, around 20 protesters broke into the Syrian Embassy in Berlin on Friday, causing damage in several offices and daubing slogans on walls before being arrested, police said.
Then protesters who were all "Syrians or of Syrian origin," entered the embassy grounds at around 4.30 pm Friday (1530 GMT) and "destroyed furniture, hung a flag from a window," before writing slogans on the embassy walls, the police said in a statement.
Alerted to the intrusion "police arrived swiftly and arrests the protesters who put up no resistance," the statement added.
The intruders were released after supplying their identities.
A German foreign ministry spokesman said, in a separate statement, that "the acts committed against the Syrian embassy in Berlin must be condemned in the firmest manner."
"The government takes very seriously its responsibilities for the security of all the diplomatic and consular representations in Germany," the spokesman added.
Berlin's coordinator for Middle East policy, Boris Ruge, phoned the Syrian ambassador to brief him on the events and express his regret, the ministry added.
Follow Emirates 24|7 on Google News.