Assange vows more leaks through 'partners'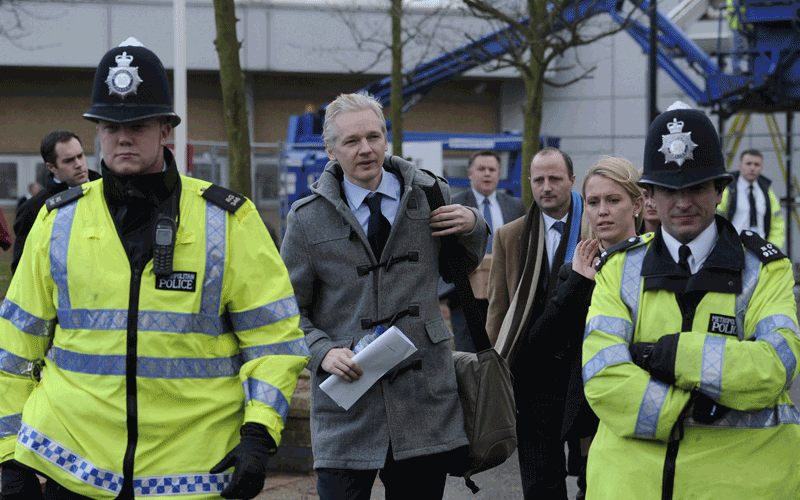 WikiLeaks founder Julian Assange vowed Tuesday to step up the website's release of secret US cables as his defence team warned he could face the death penalty if he is extradited from Britain.
Lawyers for the Australian released documents outlining their case after a brief court appearance in London during which a judge ruled that Sweden's bid to extradite him would be heard in full on February 7-8.
Swedish authorities want to question Assange about allegations made by two women that he sexually assaulted them, but the 39-year-old insists the extradition attempt is politically motivated and linked to WikiLeaks' activities.
"Our work with WikiLeaks continues unabated and we are stepping up our publishing for matters related to 'cablegate' and other materials," Assange told reporters after the hearing at the high-security Woolwich Crown Court.
"Those will shortly be occurring through our newspaper partners around the world, big and small newspapers and some human rights organisations," added the former computer hacker, wearing a dark suit and tie.
He said he was "happy" with the outcome of the 10-minute hearing.
District Judge Nicholas Evans also agreed to change Assange's bail conditions for the full hearing, allowing him to stay at the Frontline Club, a media club in London, on the nights of February 6 and 7.
Assange has been living at the country estate of Vaughan Smith, one of the Frontline Club's founders, in eastern England since being released on bail on December 16, nine days after his arrest by British police on a Swedish warrant.
Despite the intense interest in the case, with more than 100 journalists from around the world packed into the court, Assange appeared relaxed in the dock, joking with two female prison officers.
Among the spectators in court were two of his high-profile supporters, socialite Jemima Khan and human rights campaigner Bianca Jagger.
Hours after the hearing Assange's lawyers released documents containing their draft argument, in which his barrister Geoffrey Robertson accused Swedish prosecutors of "corrupt" behaviour.
The papers claimed the main Swedish prosecutor did not have the right to issue a European arrest warrant as only Swedish police can do so, and argued that it should not have been issued when Assange was only wanted for questioning.
But the documents also repeated Assange's argument that the allegations against him are linked to the WikiLeaks' disclosures about the United States, where he faces a widening criminal probe as well as widespread vilification.
If Assange is extradited to Sweden there is a "real risk" he will face extradition or illegal rendition to the United States "where there will be a real risk of him being detained at Guantanamo Bay or elsewhere," they said.
"There is a real risk that he could be made subject to the death penalty. It is well-known that prominent figures have implied, if not stated outright, that Mr. Assange should be executed," the papers added.
The whistleblowing website has also released classified documents about the wars in Iraq and Afghanistan. The cables were allegedly obtained by a renegade US soldier, Bradley Manning, now in custody.
A US court has reportedly subpoenaed the Twitter accounts of four WikiLeaks supporters as part of a criminal investigation into the leaks.
US Vice President Joe Biden last month described Assange as a "hi-tech terrorist."
In a statement overnight, Assange condemned the violent rhetoric against him by a number of US politicians and media commentators and demanded that those responsible face prosecution.
He drew parallels between the language used against him and WikiLeaks and accusations that similar rhetoric led to the shooting of Democratic congresswoman Gabrielle Giffords in Arizona at the weekend.
"When senior politicians and attention-seeking media commentators call for specific individuals or groups of people to be killed, they should be charged with incitement -- to murder," Assange said.
Follow Emirates 24|7 on Google News.