Australia fires ease as damage mounts after record heat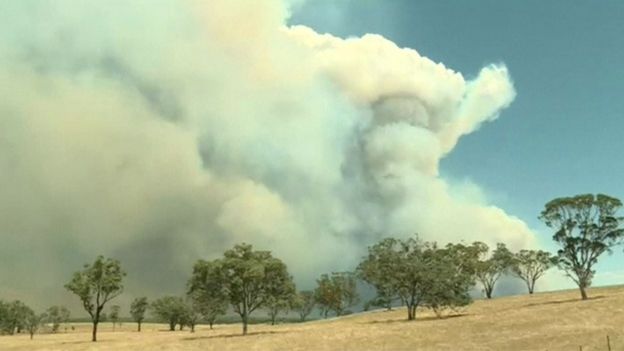 Australia was counting the cost to property and livestock Monday after firefighters battled weekend blazes in some of the hottest conditions on record.
At least 19 homes were destroyed in eastern Australia as emergency teams were sent out to assess the damage after a "catastrophic" weekend saw over 100 fire outbreaks, with 2,500 firefighters deployed and thousands more on standby.
About 80 fires continued to burn Monday, with around a quarter still uncontained, said New South Wales (NSW) state Rural Fire Service Commissioner Shane Fitzsimmons, as conditions began to cool.
"We know that there are going to be homes lost. We know that there are going to be plenty of other buildings that have been destroyed.
"There is machinery that has been destroyed and ... we are talking about livestock that has been destroyed as well," he told reporters Monday, without giving numbers.
While bushfires ravage the Australian landscape every year, land and sea temperatures have been pushed up due to climate change, increasing the severity of fire seasons.
A statewide NSW average temperature of 44 degrees Celsius (111 degrees Fahrenheit) on Saturday set a new February record, while temperatures above 47 were recorded across some parts of the state on Sunday.
Emergency services sent out some 1.5 million phone warnings to residents on the weekend in an effort to prevent fatalities.
"To come away with no life lost, or serious injury is just outstanding," Fitzsimmons said.
Prime Minister Malcolm Turnbull praised the work of emergency workers, many of whom are volunteers.
"We have had in New South Wales the worst fire conditions on record ... and yet, the fires have been contained, " he said, adding that 24 were still raging.
Communities suffered "enormous" loss of property and livestock, he added.
"(But)it could have been much worse and were it not for those great Australian firefighters, it could have been a truly disastrous weekend in New South Wales with those record temperatures."
Follow Emirates 24|7 on Google News.