Australia floods causing long-term damage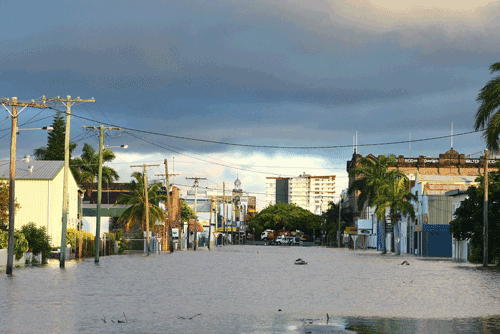 Australia's flood-stricken coal industry may be disrupted for months after key rail and road links were washed away, while some infrastructure could take years to repair, authorities said on Friday.
The floods have swamped mines in Queensland state, paralysing operations that produce 35 percent of Australia's estimated 259 million tonnes of exportable coal. Australia accounts for two-thirds of global exports of coking-coal, needed to make steel.
"There are some aspects of the rebuilding of infrastructure that will take, potentially, years," Major-General Mick Slater, chief of the flood recovery operation in Queensland, told a news conference in flood-hit Rockhampton town.
"We still don't know what it looks like underwater. I know that major roads, rail lines and bridges are all damaged."
A snap survey by Reuters showed the median expectation among analysts was that recovery in coal output to pre-flood levels would take about three months.
Commodities form a large part of Australia's $1 trillion economy and coal is the top export earner, forecast before the floods to earn nearly $50 billion in revenue in fiscal 2011.
"Until weather conditions improve, the situation could deteriorate further. Australia's exports will likely take at least a couple of months to normalise," Barclays Capital said in its daily commodities briefing.
The floods have affected an area the size of France and Germany combined. Three people have been killed and at least 40 towns are isolated or partially under water after the state's worst floods in 50 years. Damage has been estimated at $5 billion.
A muddy inland sea has stranded some of Australia's best beef cattle on tiny islands of high ground, destroyed wheat and sugar crops, and the wet season has only just begun.
Floodwaters were receding on Friday in some areas only to inundate new ones. Authorities said even once floods reached a peak, water would not significantly recede for almost a week, leaving the Capricorn highway, which runs through the main coal region, cut off.
The biggest coal port, Dalrymple, is running at near-normal export levels of around 200,000 tonnes a day despite the floods, but authorities are concerned they are simply drawing down inventories to meet shipments that may soon run out.
"We really have no idea at the moment what's happening with mine production. If we can't get it in, we can't ship it out," said Dalyrmple spokesman Greg Smith.
Gladstone port, also with a daily export capacity rate of 200,000 tonnes, is closed.
Queensland's mines minister and analysts say it will be months until mines in Australia's biggest coking coal area, the Bowen Basin, are fully operational.
"It's highly likely to be worse than the major floods of 2008, which severely hampered mine operations for two to three months and reduced Queensland coal exports by 9.5 percent or 3.5 million tonnes in the first quarter of 2008," Mark Pervan, a commodities analyst with Australia & New Zealand Bank (ANZ), said in a report.
Asian steel-makers who buy the bulk of Australia's coal have been forced to look elsewhere. [ID:nTOE70502T]
Park Cheon-tark of Hyundai Steel said the company had bought coal from Russia, Canada, the United States and China, while asking long-term contract sellers to ship earlier than previously agreed.
"With these inventories, we have no problem running steel plants through mid-April," Park said.
London-listed Anglo American , one of the nation's top four miners of steel-making coal, and smaller Australian rival Cockatoo Coal Ltd have both said it could take some weeks to pump water out of their mines.
Anglo's major rivals, Rio Tinto , Xstrata and BHP Billiton , have also been hit by the floods, and all have made force majeure declarations, which temporarily release miners from delivery obligations.
Estimates vary widely on how much capacity has been affected by declarations of force majeure.
UBS puts the figure under force majeure at between 45 million and 50 million tonnes -- about 20 per cent of Australia's coal exports in 2009, weighted more heavily toward coking coal.
Barclays Capital estimates 120 million tonnes of annual coal production capacity are under force majeure, with coking coal mines bearing the brunt.
Australian stock market operator ASX Ltd made clear on Friday it expected miners and other flood-affected firms to make prompt disclosures about the impact on their operations. So far, only a few miners have issued detailed updates.
"Certainly if we think a company might need some prompting, we may well put a call into them," an ASX spokeswoman said, adding she was not allowed to comment on individual companies.
Analysts expect steel coals prices to rise as much as a third to $300 a tonne in the aftermath of the floods, pushing thermal coal prices higher in the process.
ANZ on Friday lifted its thermal coal spot price forecast by 16 per cent to $140 a tonne for the first quarter and premium hard coking coal contract prices by 19.5 per cent to $275 tonne in the second quarter.
QR National , the main coal carrier in the Bowen Basin, said on Friday a major rail link would be under water "well into next week" and assessment of rail damage was being hindered by floodwaters.
Follow Emirates 24|7 on Google News.