Bangladesh seeks revival of silk industry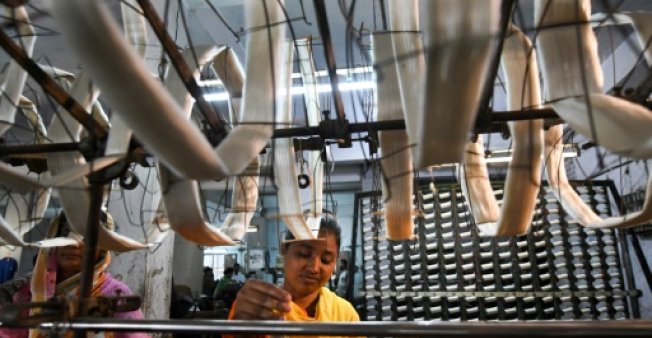 Bangladesh's silk industry is one of the oldest in the world, with farmers in the northwestern border district of Rajshahi producing some of the most sought-after silk yarns.
They specialise in high-quality mulberry silk -- widely known as Bengal or Rajshahi silk -- produced by the larvae of moths fed on fresh mulberry leaves and used for luxurious items of clothing.
After around 40 days, the worms start to form cocoons -- by spitting out saliva around their bodies -- which are then placed in bamboo frames before being harvested.
The cocoons are then boiled in hot water, killing the worm inside and separating the ultra-thin threads, which are coiled on huge bobbins and hung out to dry.
"Each cocoon contains around 500 metres (1,600 feet) of thin thread," said Akhi Akter, a supervisor at the Sopura silk factory, one of the country's key silk producers.
The dried threads are sent to a mill where workers join several threads together and put them onto looms to make cloth.
This material is then boiled, washed and waxed before being sent to tailors to make mostly sarees, tunics and "dupattas", a kind of shawl-cum-scarf.
Bangladesh's silk industry was hit hard in the 1990s and 2000s by what officials called faulty government policy which flooded the market with cheap Chinese silk imports.
But now the country has initiated a multi-million-dollar plan to revitalise the industry and create hundreds of thousands of new jobs.
"Sericulture has a huge prospect if we could nurture it properly," Abdul Hakim, the head of the country's Silk Development Board, told AFP.
He said the number of silk farmers has plummeted to around 2,000 from 10,000 only a few years ago.
"Our plan is to bring in Chinese experts and train our farmers. It will increase our silk production," he said.
With the booming of the Bangladesh economy -- it grew over 7.5 percent last year -- demand for Rajshahi silk has increased several fold, Akter said.
An average quality Rajshahi silk saree now sells for some $100 and premium silk items can go for over $250 in the local market.
"There is a huge potential export market for our silk," she said.
"We just need to do it right."
Follow Emirates 24|7 on Google News.