Ben Ali, wife sentenced to 35 years in absentia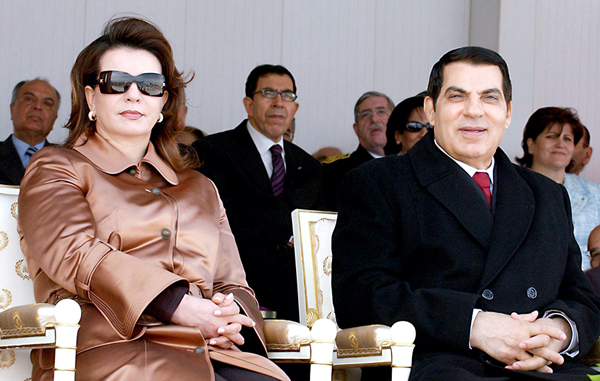 A Tunisian court Monday sentenced ousted strongman Zine el Abidine Ben Ali and his wife to 35 years in prison each for misappropriating public funds and fined the exiled couple tens of millions of euros (dollars).
"The court has ruled the facts against Zine el Abidine Ben Ali and Leila Trabelsi have been established," Judge Touhami Hafi said as he read out the verdict after only six hours of deliberation on the first day of the landmark trial.
The couple were charged with embezzlement after the discovery of money and jewellery in their palace in the outskirts of Tunis.
Ben Ali was fined 50 million dinars (25 million euros/ê36 million) and his wife Leila Trabelsi 41 million dinars (20.5 million euro/ê30 million) in the verdict.
The judge said the sentences, which exceeded the 20 years that had been widely predicted, would take immediate effect, despite the couple being in Saudi Arabia.
A second case targetting Ben Ali only, involving weapons and drugs allegedly found in a presidential residence in Carthage, was postponed to June 30 to allow his lawyers more time to prepare their defence.
Ben Ali's lawyer in Beirut denounced the verdict as farcical.
"This is a joke," attorney Akram Azoury told AFP. "You don't retaliate to a joke. You just laugh."
The former president denies any wrongdoing and in a statement released Monday said he had not intended to go into exile while condemning political developments in Tunisia since the end of his 23-year rule.
"I did not abandon my post as president nor did I flee Tunisia, as some media have falsely reported... I was duped into leaving Tunis," read a statement earlier released by Azoury.
The trial was only the start of a long process that may see top members of Ben Ali's regime in the dock over allegations including murder, torture, money laundering and trafficking of archaeological artefacts.
Of the 93 charges Ben Ali and his inner circle face, 35 will be referred to the military court, according to the justice ministry spokesman.
A murder or torture conviction carries the death penalty, though Ben Ali is not expected to face these charges.
The military justice system chief, Colonel Major Marwane Bouguerra, said former interior minister Rafik Belhaj Kacem may find himself named in cases linked to the 300 civilian deaths in protests between December 17-January 14.
Protests both in support and condemning the trial could be heard within the courtroom on Monday.
"What are they putting on trial? Air? This makes no sense," said Mohamed Salah Zaalouni, a waiter.
Ben Ali -- accompanied by his wife and two children -- left Tunisia for Saudi Arabia in January at the climax of the first of the Arab uprisings.
In Monday's statement, Ben Ali said he had been advised by his security chief Ali Al-Soryati to leave Tunisia on January 14 because of fears of an assassination plot.
He said he had bundled his family onto a plane which took them to Saudi Arabia and had explicitly instructed the pilot to wait for him at Jeddah airport.
"But after arriving in Jeddah the plane turned around and headed back to Tunis, disobeying my instructions," he said.
Ben Ali said he considered himself the victim of a plot that needs him as the "absolute evil" so that Tunisians "are prepared for a new political system created behind their backs by extremists."
His dramatic departure came less than a month after the self-immolation of Mohamed Bouazizi, a 26-year-old street vendor who was complaining of unemployment, unleashed already-simmering popular anger against Ben Ali.
Saudi Foreign Minister Saud al-Faisal has said the kingdom gave refuge to Ben Ali on condition he would not use it as a base for political activities.
Follow Emirates 24|7 on Google News.