Big Ben towers in basketball-mad Philippines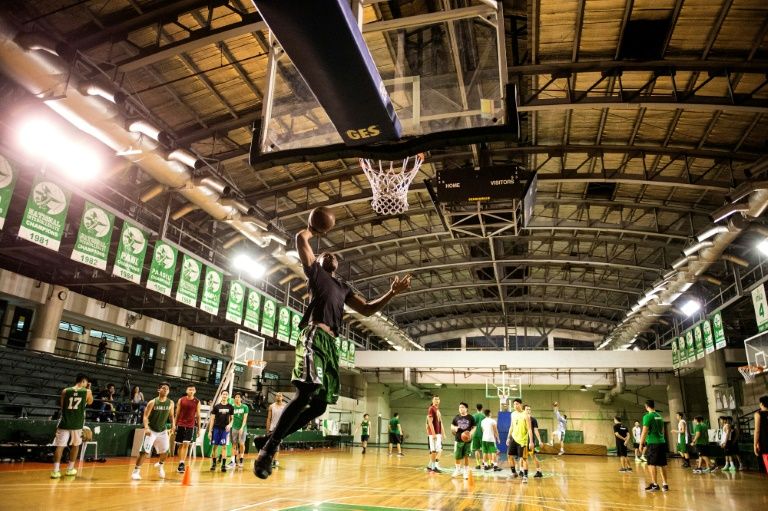 "Big Ben" cuts an imposing figure, dominating college basketball in the hoops-crazy Philippines as the best of a wave of African imports on unlikely Asian journeys in search of their NBA dreams.
Cameroon's Benoit Mbala scooped up MVP honours as he led one of Manila's top colleges to last year's University Athletic Association of the Philippines championship.
To the 22-year-old, who played only football until a tremendous growth spurt forced him from pitch to hardcourt as a teenager, the fervour of a nation that treats basketball almost as a religion has been overwhelming.
"I never expected myself going to a basketball game, (with the crowds) super full and packed with people almost spilling onto the court. That's really something crazy. The Filipinos are really fanatics," Mbala told AFP in an interview.
In an Asian nation where few people grow taller than 1.81 metres (6ft), the 2.01m (6ft 7in), 109kg (240lb) Cameroonian is a scoring and rebounding machine for Manila's De La Salle University team, where he averaged double digits for both statistical categories in his first year.
"He's a big (forward) who can run, he's fast, he's agile, physically strong and mentally he's sharp, and he has a good attitude," his coach, Aldin Ayo, told AFP.
"He's the best player right now in terms of how he dominated the league last season... he intimidates other players."
Mbala's exploits earned him a call-up this month to the Cameroon men's basketball team pool, alongside NBA stars Joel Embiid of the Philadelphia 76ers and Luc Mbah a Moute of the Los Angeles Clippers.
The youngest in a middle-class family, the burly Mbala took a strange route to basketball's oldest Asian outpost and home to one of the world's oldest professional leagues.

African influx
In 2011 he won African MVP honours at a South Africa camp organised by Basketball Without Borders, a global development programme for teenagers co-run by the NBA.
A few months short of 17 at the time, Mbala had hoped it would land him a US college basketball scholarship, but visa problems wrecked his dream.
"It's bizarre, going to the States you need something like a godfather, someone backing you up... unluckily I didn't have anyone so I just did everything on my own. Things didn't go my way," he said.
So he headed to the Philippines instead, starting initially at a little-known school in the central city of Cebu.
But at an invitational tournament, Mbala shot the lights out against La Salle, a wealthy, Catholic Church-run Manila school financially backed by several billionaire alumni, and he was quickly recruited.
The Philippines' university basketball scene resembles the American system in terms of popularity and importance, with games broadcast on national television and attracting crowds of more than 10,000.
Mbala was among the early African recruits to the Philippines. Now, nearly every university has filled their quota of one foreign student with an African.
"They (African imports) raised the standards of the game because of that talent. And the local players are learning to adapt to bigger opponents as well," Ayo said.

Late starter
Despite his achievements, Mbala remains a work in progress. He struggled to execute a spin dribble, a must-have skill for Filipino players, during the La Salle practice witnessed by AFP.
With better ball-handling skills, his coach believes Mbala could be at the level of a top-calibre level collegiate player in the United States, which is one step away from the NBA.
"There are some aspects of his game that he has to improve. But physically, talent-wise, he can play," Ayo said.
"Had he started playing basketball at an early age all of his skills would have developed by now. But since he started with football that affected it somewhat."
Mbala, who idolises NBA legend Michael Jordan and LeBron James of the Cleveland Cavaliers, makes no secret of his own dream of playing in the world's top pro league.
But Mbala is putting as much effort into his business management course as his basketball career.
He said he was aware basketball was a "gamble" and an NBA career was no certainty, citing woeful stories of promising young men whose careers were prematurely ruined by injury.
"Unluckily, they didn't get to finish college for backup... I want to have a degree just in case," he said.
Follow Emirates 24|7 on Google News.