Blind cleric Omar Abdel Rahman dies in US prison facility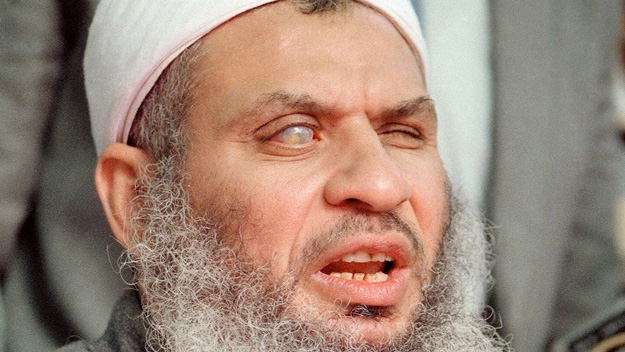 Blind cleric Omar Abdel Rahman, the Egyptian-born cleric linked to the 1993 World Trade Center bombing, died Saturday of natural causes in a US prison facility, the Justice Department said. He was 78 years old.
Abdel Rahman was serving a life sentence on several terrorism-related charges at a Federal Medical Center in Butner, North Carolina. His death came after a long battle with diabetes and coronary artery disease, the Bureau of Prisons said.
The sheikh was seen as a jihadist spiritual leader even after his conviction in 1995 for conspiring to bomb New York landmarks, including the United Nations, and assassinate the former Egyptian president Hosni Mubarak.
Abdel Rahman, who sported a long, gray beard and signature sunglasses, led the militant Gamaa Islamiya group in Egypt before emigrating to the United States.
He preached a radicalism and was seen as having inspired the 1993 bombing of New York's World Trade Center, which left six people dead and wounded around 1,000.
His son Mohamed Omar was informed of the death and told AFP the family had contacted the US and Egyptian authorities to repatriate the late cleric's body.
Abdel Rahman had been imprisoned in North Carolina since 2007. He was hospitalized in late 2006 in the state of Missouri after he began to spit blood and was given a blood transfusion.
Cause celebre
After his incarceration, the cleric became a cause celebre for jihadists who demanded the blind and ailing militant's freedom.
A year before the September 11, 2001, terror attacks in the US, the group's founder Osama bin Laden vowed to free Abdel Rahman in a statement broadcast on Qatar's satellite TV channel Al-Jazeera.
In 2012, Egypt's then-president Mohamed Morsi called for Abdel Rahman's transfer to Egypt for "humanitarian reasons," asking for a "prisoner exchange" with the United States.
Gamaa Islamiya militants took part in the 1981 attack that killed Egypt's former president Anwar Sadat, whose assassination Abdel Rahman had legitimized by issuing a fatwa.
The militant group — long designated a terrorist organization despite its renunciation of violence in recent years — also claimed
responsibility for a devastating 1997 attack in the country's southern city of Luxor, which killed some 60 people, most of them tourists.
Born in May 1938 to a family of poor farmers in the town of Gamaliya, in the Nile delta, Abdel Rahman obtained a doctorate in theology at the Islamic university of Al-Azhar in Cairo.
Despite his radical connections, Abdel Rahman in 1990 traveled to the US and preached his impassioned sermons to mosques in New Jersey and Brooklyn, after obtaining a tourist visa from a US embassy in Sudan.
War of urban terrorism
From the US he continued to urge the violent overthrow of the Egyptian government in cassette tapes sent to his homeland.
Abdel Rahman was ultimately sentenced to life in prison for conspiring to execute a spate of bombings in New York against the UN headquarters, bridges and government buildings, a campaign its plotters never saw through.
The radical theologian — along with nine associates — had been convicted of waging "a war of urban terrorism" after an almost year-long trial in a US district court in New York.
"My killing will be a martyrdom in the cause of God," said Abdel Rahman, who, along with his co-defendants, denied the charges against him.
He was not charged in the 1993 World Trade Center attack, in which a truck bomb detonated in an underground parking garage beneath one of the towers that once stood in southern Manhattan.
Four others were convicted of carrying out the attack in a separate trial, but authorities suspected the cleric was connected to it.
In 2005 the US human rights lawyer who represented Abdel Rahman, Lynne Stewart, was herself convicted for acting as a go-between for her jailed client and his followers.
Follow Emirates 24|7 on Google News.