Born to be PM? India's Rahul Gandhi in limelight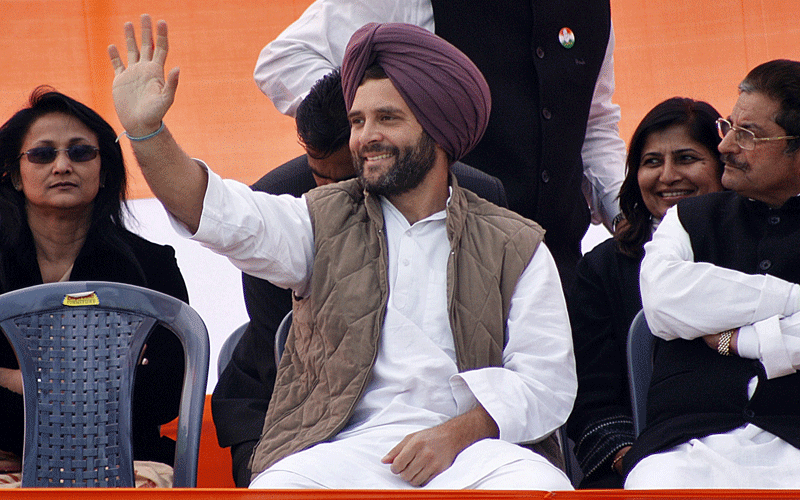 Rahul Gandhi has no ministerial experience, has never sought a government job and is coy about detailing his vision for India, but he has long been seen as the country's future prime minister.
The son, grandson and great-grandson of prime ministers, Rahul, now 41, has carried the burden of expectation since his father Rajiv Gandhi was assassinated in 1991.
He has prepared for his apparent destiny under the guidance of his mother, Sonia Gandhi, the Italian-born president of India's ruling Congress Party who has overseen all government policy since 2004.
With the elderly Manmohan Singh likely to step down as prime minister at 2014 elections at the latest, Rahul is tipped to take over as Congress party president on his next step towards leading a country of 1.2 billion people.
In the upcoming crucial elections in Uttar Pradesh, India's most populous state which begins voting on Wednesday, he has taken centre-stage in campaigning in a key test of his popularity and ability to mobilise the masses.
Softly-spoken, bespectacled and boyish, Rahul would be an unlikely candidate to rise to the top of India's turbulent political world without his illustrious lineage as scion of the Nehru-Gandhi clan.
The family is descended through Jawaharlal Nehru, the first prime minister after independence from Britain in 1947, his daughter Indira Gandhi, who was twice premier, and Indira's son Rajiv.
Tragedy, as well as power, has coloured the family's role in Indian history. Indira was assassinated in 1984 by her bodyguards, while Rajiv was killed by a suicide bomber in 1991 when campaigning for re-election.
Rahul, who was 20 when his father died, has lived in a cocoon of security for much of his life.
He was educated in India and at Harvard and Cambridge, and first worked in business management in London before winning the family constituency seat of Amethi in Uttar Pradesh state in 2004.
Since then he has worked behind the scenes to revive support among young people for the Congress party, and has also cherry-picked useful publicity opportunities such as visiting earthquake victims in Sikkim.
He has held few press conference, gives almost no interviews and speaks mostly at carefully-controlled appearances in often remote and poor villages.
Still unmarried, and with no acknowledged girlfriend, Rahul is occasionally spotted in upmarket Delhi restaurants, at sports events sitting with ordinary fans and even riding the metro -- always surrounded by armed guards.
During huge protests against institutional corruption in August, he passed a rare test of his political abilities when delivering a forceful speech in parliament as the government wobbled.
"I have travelled the length and breadth of our country. I have met scores of countrymen, rich and poor, old and young, privileged and disempowered who have expressed their disillusionment to me," he said.
"I believe in empowering our youth, in opening the doors of our closed political system, in bringing fresh blood into politics... I believe in moving our democracy deeper and deeper into our villages and our cities."
But his record of real achievement is thin, and his stance on many thorny issues as India hurtles towards modernisation is unclear.
US diplomatic cables released by the Wikileaks website described him as "an empty suit" when he became an MP in 2004.
"He will need to get his hands dirty in the untidy and ruthless business that is Indian politics," it said.
Instead, Rahul has remained largely above the fray, protecting his humble and serious image.
To many observers, it is actually his sister Priyanka who has the natural political instincts, but she concentrates on her life as a mother of two young children.
Follow Emirates 24|7 on Google News.