Brisbane besieged by once-in-a-century floods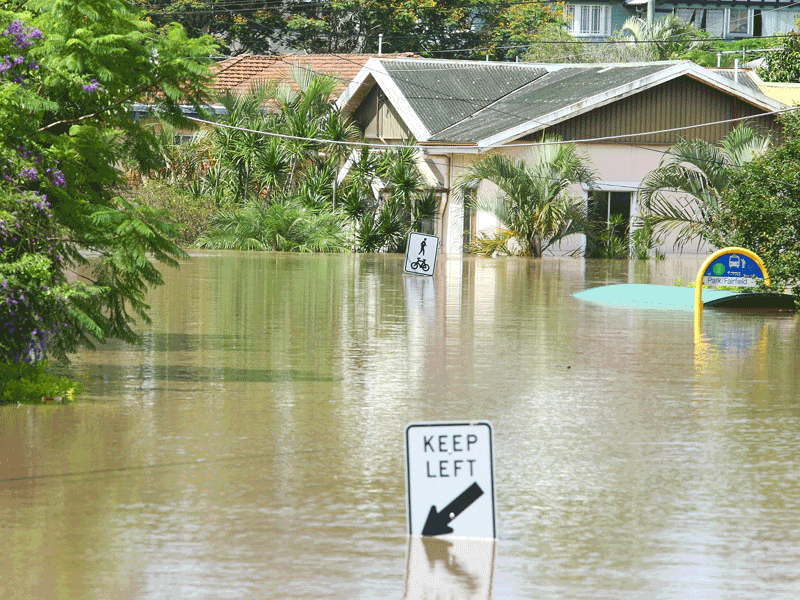 Thousands of residents of Australia's third-largest city evacuated homes on Wednesday as massive floods began to inundate the financial district, sparked panic buying of food and left authorities despairing for more than 90 people missing.

The biggest floods in a century have so far killed 14 people since starting their march across the northern mining state of Queensland last month, crippling the coking coal industry, destroying infrastructure, putting a brake on the economy and sending the local currency to four-week lows.
With a flood surge expected to peak in the state capital of Brisbane, a city of two million, on Thursday, residents pushed shopping carts laden with food through flooded streets as supermarkets ran out of staples such as milk and bread.
At one business centre, people waded in shoulder-high water trying to rescue possessions.
Rescue crews took advantage of rare sunshine to look for 90 people still missing from tsunami-like flash floods that tore through townships west of the city this week.
"We can take no comfort from that blue sky," Queensland state Premier Anna Bligh told reporters, predicting that almost 20,000 homes could be flooded at the river's peak in what she called Queensland's worst natural disaster.
"The water and the rain have already done their damage. This is a deeply serious natural disaster."

The worsening floods are forcing economists to raise estimates of the economic impact, with one central bank board member quoted on Wednesday as saying the disaster could cost as much as 1 percent of economic growth -- equal to almost $13 billion, double the previous highest estimate.
The Australian dollar sank to a fresh four-week low of $0.9803 on the comments from Warwick McKibbin, an academic and a member of the central bank's policy making board.
In Brisbane, thousands of homes and businesses were inundated as swirling floodwaters rose in and around the riverside city, forcing residents to flee with few possessions to higher ground and evacuation centres.
Some scenes in the city were surreal, with early-morning joggers trying to carry on as normal, even though parts of their routes were underwater. Others were distraught.
"This is my whole life, everything is gone. I never thought it would get this bad," said Kim Hung, manager of the Salt 'n' Pepper catering business, as two friends floated a coffee machine toward higher ground.
Bligh said she expected about 19,700 homes to be flooded at the river's peak, affecting up to 45,000 people. The military is running relief flights with helicopters and C-130 transports.
Dams built to protect communities are at bursting point. The Port of Brisbane is closed, shutting down Australia's third busiest container port and a 5 million tonnes-a-year coal loading facility.
Australia is the world's biggest exporter of coking coal, which is used in steel manufacturing and accounts for more than half of global exports, and is also the second-biggest exporter of thermal coal used for power generation.
Power company Energex has shut power to some low-lying areas of Brisbane, including parts of the financial district, for fear that live power lines could electrify floodwaters. Up to 100,000 homes in Brisbane and nearby Ipswich were without electricity.

'TERRIFYING, CHAOS'
Bligh said the Brisbane River, which winds through the city centre, should peak at the high tide in the early morning on Thursday, with thousands of properties to be inundated before that time, but she appealed for calm.
"Right across this region, this river is creating chaos, terrifying people and causing damage already," she said, predicting the peak could last until Saturday.
Unmoored boats and pontoons with speedboats still attached could be seen adrift on the swirling Brisbane River, some crashing into bridges as the sun broke through, allowing rescue helicopters to fly.
Showers, though, are forecast to return next week, and Bligh said people should conserve water in case fresh supplies were interrupted. "As crazy as it sounds, now is not a time to be wasting water," she said.
More than 1,500 people were moved to evacuation centres overnight from homes at Ipswich, west of Brisbane, with a third of the town expected to go under water as the Bremer River rose.
Further south, in New South Wales state, entire communities were evacuated around the towns of Grafton and Maclean, as the Clarence River swelled, catching emergency teams by surprise.
In southeast Victoria state, heavy rain caused flash flooding around the town of Horsham, prompting fears a nearby lake could break its banks, while in Western Australia authorities fought bushfires in a summer of extremes.
Thin lines of sandbags surrounded some businesses in downtown Brisbane, with some motorists braving flooded streets.
Floodwaters entered the lobby of Brisbane's Cutting Edge TV production house. A day earlier workers had tried desperately to sandbag the glass-front building full of high-tech equipment.
Food prices are surging around the country as the floods ruin crops in Queensland and sever distribution networks.
Police were starting to close off more streets in the centre of Brisbane as some streets were flooded with knee-high water.
Prime Minister Julia Gillard arrived in the city to inspect the devastation and said she was deeply concerned about the impact on jobs and livelihoods.
"I have been shocked. I think we've all been shocked by the images of that wall of water just wreaking such devastation. The dimensions of it are truly mind-boggling," Gillard said.
"We will have to work through the long-term economic impacts for Queensland, and of course the huge infrastructure re-building task to come as floodwaters subside."
Follow Emirates 24|7 on Google News.