Brisbane flood clean-up starts as damage emerges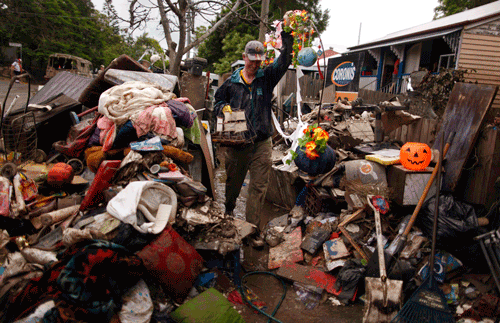 The swamped Australian city of Brisbane began the heartbreaking task Friday of cleaning up after its worst floods in decades, as more troops were ordered to help victims of the disaster.
But as the waters drained from the country's third largest city, revealing the full horror of the devastation wrought when the Brisbane River burst its banks, they barrelled towards country towns downstream threatening more damage.
Brisbane residents nervously returned to see what remained of their homes and businesses, as the muddy brown soup that had covered buildings up to their roofs dropped to reveal its aftermath.
"There is a lot of heartache and grief as people start to see for the first time what has happened to their homes and their streets," Queensland state Premier Anna Bligh warned a day after the river peaked.
"In some cases we have street after street after street where every home has been inundated to the roof level, affecting thousands of people."
She urged locals to help each other as the city of two million people began its daunting "post-war" rebuilding effort.
"I encourage people please to make an effort to help your friends, help your families," she urged, as locals slopped out thick layers of stinking mud from their homes and businesses and tried to salvage any possessions that survived.
The river had dropped two metres from its peak of 4.46 metres (14 feet, eight inches) reached Thursday, exposing damage that will add dramatically to Queensland's estimated flood reconstruction bill of Aus$5 billion ($5 billion).
More than 26,000 homes were flooded in Brisbane, 11,900 of them completely, leaving their owners set to be homeless for weeks or even months. Electricity remained cut to 66,000 homes, and many key roads were still blocked.
An unbearable stench filled the air while the twisted remains of boats, parts of buildings, a large chunk of a concrete walkway and other debris lay on mud banks throughout the city.
Gumboot-clad Brisbane resident and former prime minister Kevin Rudd handed out hand sanitiser to victims of the floods as they tackled the chaos.
Prime Minister Julia Gillard doubled the number of soldiers combatting the deadly floods to 1,200, the nation's biggest deployment for a natural disaster since 1974.
South of Brisbane, residents of the 6,000-strong town of Goondiwindi waited nervously as flooding tested the town's levee, on the verge of becoming the next victims of Queensland's once-in-a-century floods that have swamped an area larger than France and Germany combined.
"We are expecting this to hold but we are in uncharted territory," said mayor Graeme Scheu as the water lapped just below the 11-metre (36 feet) riverbank levee, after hospitals and nursing homes in the town were evacuated.
Back in Brisbane, police arrested three people for looting in what they branded a "disturbing" development. So far 10 people have been arrested on such charges.
"This is very, very disturbing but can I add that these people were located by the proactive patrols being undertaken by our water police," said Deputy Police Commissioner Ian Stewart.
At least 15 people have been confirmed killed in the floods in the last four days, most of them when flash floods hit the Lockyer Valley, west of Brisbane, and the town of Toowoomba on Monday. Dozens of others are missing.
Gillard and Bligh were to visit the town of Grantham in the Lockyer Valley, which was the "epicentre" of the destruction that saw entire houses washed away and cars tossed around in the water like paper cups.
Officials said the body of one of those who died was recovered 80 kilometres from where that person went missing, indicating the possibility that the bodies of all the flood's victims might never be found.

Follow Emirates 24|7 on Google News.