Britain's Queen Elizabeth II marks 60 years on throne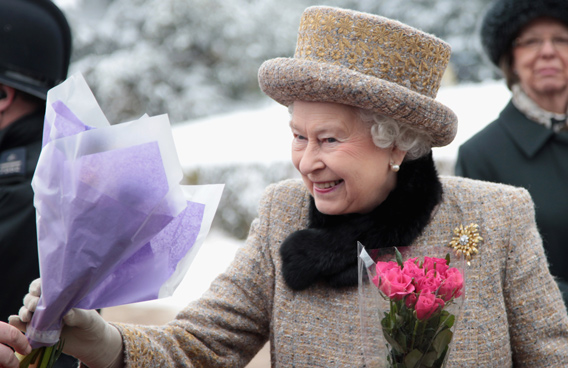 Queen Elizabeth II marks 60 years as monarch on Monday with a deliberately low-key programme of visits to eastern England, kicking off five months of diamond jubilee celebrations.
The queen will visit the town hall in King's Lynn and then a nearby school, six decades to the day since she ascended to the throne after her father King George VI suddenly died on February 6, 1952.
The day in Norfolk kicks off a series of events culminating in a flotilla of 1,000 boats sailing up the River Thames on June 3, led by the queen in an ornate barge adorned with flowers.
At the age of 85, the queen's programme will be restricted to Britain over the next five months, but other members of the royal family will criss-cross the Commonwealth in her place.
The diamond jubilee festivities have been scheduled over four days on June 2-5, and will also include a chain of beacons being lit across the Commonwealth and a pageant of horses and performers in the grounds of Windsor Castle.
On Sunday, the queen braved snowy weather to attend a church service alongside her 90-year-old husband Prince Philip, who appeared sprightly despite undergoing heart surgery just before Christmas.
After the service, she was presented with flowers by local children outside the church, which lies on the royals' private Sandringham estate.
On the fateful day in 1952, the 25-year-old Elizabeth was on a visit to Kenya when she received the news from her husband that her father had passed away in his sleep -- she had gone to bed a princess and woke up a queen.
As she returned to Britain, she was greeted at the airport by prime minister Winston Churchill and the enormity of the challenge ahead dawned on her.
Her coronation, a solemn affair, did not take place for more than a year, on June 2, 1953.
In a message to her subjects to mark Monday's landmark, the queen said she wanted to "dedicate myself anew to your service".
She thanked the nation for "the wonderful support and encouragement that you have given to me and Prince Philip over these years" and she urged people to "give thanks for the great advances that have been made since 1952".
Prime Minister David Cameron said the queen had guided the country "with experience, dignity and quiet authority" -- and he dismissed suggestions she was "simply a glittering ornament".
"That misunderstands our constitution and it underestimates our Queen. Always dedicated, always resolute and always respected, she is a source of wisdom and continuity," Cameron said.
"All my life, and for the lives of most people in this country, she has always been there for us."
One member of the royal family who will be absent from the early stages of the jubilee celebrations is Prince William, who last week started a six-week mission as a Royal Air Force search and rescue pilot in the Falkland Islands.
Argentina, which claims the islands in the South Atlantic, is furious at the prince's posting.
Follow Emirates 24|7 on Google News.