Brotherhood leader says he is ready to talk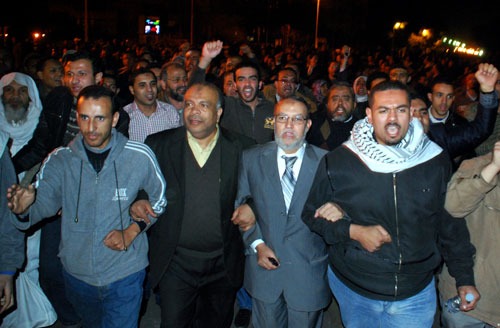 Egypt's opposition Muslim Brotherhood is ready to hold talks on the transition from President Hosni Mubarak's rule once he has resigned, its supreme guide Mohammed Badie told Al Jazeera television Friday.
"We stand with all the political forces supporting dialogue with whoever wants to implement reforms in the country after the departure of this unjust, corrupt tyrant," Badie told the Qatar-based satellite channel, referring to Egyptian President Hosni Mubarak.
"We have a single demand. Once it is met we will engage in dialogue," he said in response to a question about the Muslim Brotherhood's willingness to enter dialogue with newly-appointed Vice-President Omar Suleiman.
In a television address late on Thursday, Suleiman announced he was open to including the Muslim Brotherhood in talks he plans to hold with the opposition.
"We reached out to them. They were invited. They hesitated," Suleiman said of the brotherhood, which is officially banned but tolerated in Egypt.
On Thursday, brotherhood spokesman Mohammed Mursi said the group had rejected "categorically all dialogue with the regime."
Badie said in Friday's interview that the departure of Mubarak after 32 years in power "is the demand of all the people. That he leaves today. That he doesn't stay a single hour more. That this corrupt regime leaves today."
He added that the departure would be "followed by a transition period under the vice president with a full mandate."
The Egyptian government has accused the brotherhood of trying to profit from the protests that have rocked the country for 11 days, raising the spectre of an Islamist takeover.
The brotherhood oversees a powerful social aid network.
Follow Emirates 24|7 on Google News.