Captain of Italian cruise disaster arrested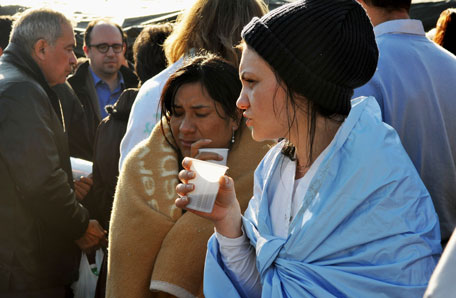 The captain of a luxury cruise liner that keeled over off Tuscany, killing three people and leaving 41 unaccounted for, was arrested Saturday as survivors told of scenes "like the Titanic".
Terrified passengers rushed to get into lifeboats and 100 people had to be rescued from the sea.
The Costa Concordia with more than 4,000 people on board apparently hit a reef, tearing a 70- to 100-metre (230- to 330-foot) gash in its hull, just hours after setting off from the Italian port of Civitavecchia near Rome on Friday.
The ship quickly listed, leaving it half submerged in shallow waters near the island of Giglio off the west coast of Italy.
Less than 24 hours after the accident, the captain, Francesco Schettino, and first officer, Ciro Ambrosio, were arrested, local prosecutors said, and Italian media reported that they faced possible charges of multiple homicide and abandoning ship before all passengers were rescued.
The captain "approached Giglio Island in a very awkward way, hit a rock that stuck into its left side, making (the boat) list and take on a huge amount of water in the space of two or three minutes," Grosseto prosecutor Francesco Verusio told reporters.
Fire chief Ennio Aquilino told AFP his men had "plucked 100 people from the water and saved around 60 others who were trapped in the boat."
At least 42 are injured, including two seriously -- a woman with a blow to the head and a man struck in the spine.
Medical sources said most had broken limbs and suffered from hypothermia.
Coastguards meanwhile said divers had recovered the ship's "black box" which should contain records of the precise route and conversations among the crew. The search for survivors was called off for the night late on Saturday.
But 41 people who had been on board were still missing, said Grosseto governor Giuseppe Linardi and port officials, although it was not clear whether they had made their own way to safety without checking in with authorities.
Passengers earlier described panic and confusion on board after they felt the ship run into something as they sat down for dinner on Friday.
"There were scenes of panic like on the Titanic. We ran aground on rocks," passenger Mara Parmegiani was quoted by Italian media as saying. "We were very scared and freezing."
"We heard a loud noise, the plates and cutlery fell on the floor and the lights went out, but the staff told us not to worry," said Roberto Bombardieri, a hairdresser.
Another survivor, cruise ship worker Fabio Costa, said people panicked and began pushing in order to get into lifeboats.
"Everything just started to fall and everybody started to panic and run," he was quoted as saying by the BBC.
"We had no idea how serious it was until we got out and we looked through the window and we saw the water coming closer and closer. Everything happened really, really fast," he said.
"Everybody tried to get on the boats but people started to panic so they were pushing each other and the crew was trying to help. A lot of people were falling down the stairs," he added.
Earlier Saturday, Captain Schettino told Italian television that the vessel had hit a rocky spur while cruising in waters which, according to the charts, should have been safe on Italy's west coast.
"As we were navigating at cruise speed, we hit a rocky spur," he told Tgcom24 television station.
"According to the nautical chart, there should have been sufficient water underneath us," he added.
An executive with the company that owns the Italian cruise ship also insisted that the vessel had not strayed off course.
"It is not correct to say that the boat was off its route," Gianni Onorato, managing director of Costa Crociere, told reporters on Porto Santo Stefano island, a resort town near the site of the accident.
But according to Giorgio Fanculli, a journalist on Giglio island, the vessel was too close to shore.
"It was the classic passage, the cruise liners do it often, all lights lit up ... but here, he went too close, a lot more than usual," said Fanculli, who saw the vessel sink and also witnessed the rescue operation.
A 70-year-old French passenger who did not give his name said he realised immediately that the situation was serious after a first impact at the left rear of the ship around 9:45 pm (2045 GMT) and a second collision shortly afterwards.
"There are three certified dead," Linardi told Italian media.
The ANSA news agency said the dead had been identified as two French passengers and a Peruvian crew member.
The people on board included some 60 nationalities and about 52 were children under six. Nearly a third of the passengers were Italian, followed by Germans and French. There were also Americans, Russians and Japanese on board.
Indian Mondal Mithun, a 26-year-old restaurant manager on the Costa Concordia who was on his first cruise, said that in his area there was only "one lifeboat for 150 passengers".
Reports earlier said one of the victims was a man in his 70s who died of a heart attack caused by the shock to his system when he jumped into the sea.
Fire service spokesman Luca Cari told AFP searches were "complicated because there is a risk that one of the floors would collapse."
An environment ministry official told AFP the risk of an oil spill was minimal, saying: "It's a new ship, double-hulled, everything is well sealed." Some 2,380 tonnes of oil remains in the ship's tanks.
Shocked passengers crammed into the island's few hotel rooms and a local church. Hundreds were being transferred by ferry to Porto Santo Stefano, which is linked to the Italian mainland.
Passengers had been initially told the ship had shuddered to a halt for electrical reasons, before being instructed to put on their life-jackets and head for lifeboats.
The ship had been headed for the port of Savona in northwest Italy. It was also scheduled to visit the French port of Marseille and Barcelona in Spain.
The cruiseliner boasts 58 suites with balconies, five restaurants, 13 bars, five Jacuzzis and four swimming pools.
Follow Emirates 24|7 on Google News.