Central banks take G20 stage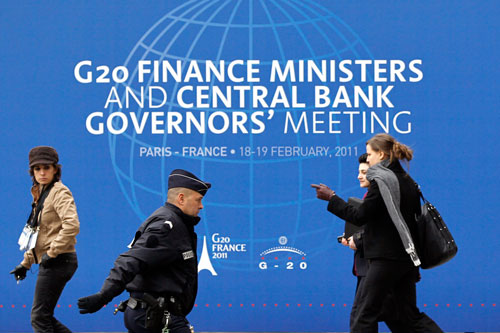 Loose monetary policy in the developed world is pushing capital into emerging economies and helping inflate commodities prices but is necessary nonetheless, the Bank of Japan chief said on Friday ahead of a G20 meeting charged with tackling global imbalances.
The world's top central bankers will take centre stage at a Group of 20 gathering in Paris which appears set to make only glacial progress on an ambitious French agenda.
BoJ Governor Masaaki Shirakawa and the monetary policy heads of the United States, euro zone, China and Britain will share a public platform, with their policy differences and worries about resurgent inflation of key interest to financial markets.
Emerging powerhouses China and India have already raised interest rates to combat inflation and complain that "hot money" risks destabilising their economies.
Pressure is mounting on the Bank of England to follow suit, with UK inflation double its 2 percent target.
The European Central Bank is not expected to tighten policy until late in the year at the earliest while the Federal Reserve continues to print money to pump prime its economy via a $600 billion bond purchase programme, the source, emerging powers say, of the surge of capital inflows buffetting their economies.
"Monetary easing by developed countries is causing capital flows into emerging countries and that is partly to blame for a rise in commodity prices," Shirakawa told reporters on the sidelines of the meeting of finance ministers and central bank governors which begins later on Friday.
"Still, monetary easing (policies) by developed countries are necessary measures," he said.
In a paper prepared for the two-day G20 meeting, the International Monetary Fund said euro zone debt tensions still posed a threat to global recovery, while fast-growing emerging nations risked overheating and surging food prices posed an inflationary risk.
The United States' policy of quantitative easing could cause a destabilising flood of capital -- the charge levelled by China and others -- the IMF said, though it conceded this had not happened so far.
"There is concern that quantitative easing in the United States could result in a flood of capital, though the recent data are not bearing this out," it said.
FRENCH LABOURS
France, chair of the G20 this year, has already run into opposition with its push for greater transparency and regulation of commodities prices and a reform of the international monetary system and is pinning its hopes on nailing down an accord on measuring imbalances in the world economy, where the G20 nations account for around 85 percent of GDP.
But here too expectations are being lowered. French Economy Minister Christine Lagarde said on Thursday the G20 meeting will have made major progress if it clinches a preliminary accord on what measures to use to benchmark and address mismatches that could trigger a future financial crisis.
The United States and the IMF consider it vital to have agreement on a set of indicators by mid-year so that guidelines can be agreed later in the year for coordinated global economic policies to reduce dangerous imbalances.
Paris is pushing for the same.
But other delegates say a more realistic deadline would be October, just a month before the major set-piece G20 leaders summit at which major initiatives are due to be signed off.
With France's G20 agenda moving slowly, other issues could come to the fore on Friday and Saturday, such as global inflation or the ongoing euro zone debt crisis.
A euro zone source told Reuters on Thursday that European Union member states were increasingly concerned about Portugal's ability to fund itself in financial markets and believe Lisbon will need to seek a bailout by April, following in the footsteps of Greece and Ireland.
The G20 is also charged with tackling regulation of "too big to fail" banks by the year-end.
Mario Draghi, the head of the Financial Stability Board -- in charge of coordinating global financial regulation since the beginning of the financial crisis -- said regulators must turn their attention to the lightly regulated shadow banking sector, according to a source at a closed-door meeting where he spoke.
Follow Emirates 24|7 on Google News.