Chavez hosts 'brother' Ahmadinejad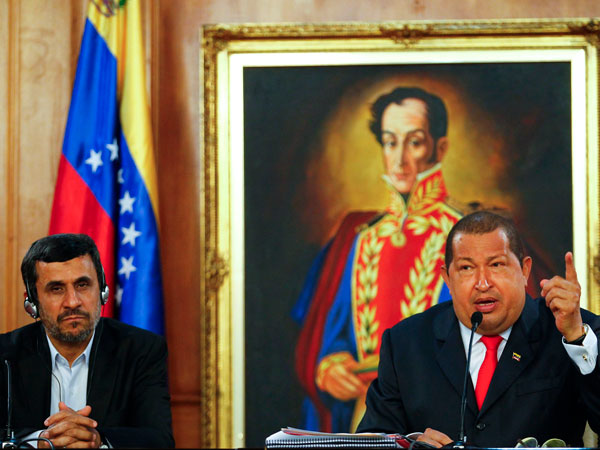 Iranian President Mahmoud Ahmadinejad and Venezuela's Hugo Chavez lavished each other with praise on Monday, mocked U.S. disapproval and joked about having an atomic bomb at their disposal.
"Despite those arrogant people who do not wish us to be together, we will unite forever," the Iranian president told Venezuela's socialist leader Chavez at the start of a visit to four left-leaning Latin American nations.
Despite their geographical distance, the fiery anti-US ideologues have forged increasingly close ties between their fellow OPEC nations in recent years, although concrete projects have often lagged behind the rhetoric.
Ahmadinejad was in Venezuela at the start of a tour intended to shore up support as expanded Western economic sanctions kick in over the Islamic Republic's nuclear program.
"The imperialist madness has been unleashed in a way that has not been seen for a long time," Chavez said in a ceremony to welcome Ahmadinejad at his presidential palace in Caracas.
Both men hugged, beamed, held hands and showered each other with praise.
As he often does, the theatrical and provocative Chavez stuck his finger right into the global political sore spot, joking that a bomb was ready under a grassy knoll in front of his Miraflores palace steps.
"That hill will open up and a big atomic bomb will come out," he said, the two men laughing together.
"The imperialist spokesmen say ... Ahmadinejad and I are going into the Miraflores basement now to set our sights on Washington and launch cannons and missiles. ... It's laughable."
US officials from President Barack Obama down have expressed disquiet over Venezuela's close ties with Iran. They fear Chavez will weaken the international diplomatic front against Iran and could give Tehran an economic lifeline.
The United States and its allies accuse Iran of aiming to produce a nuclear weapon. Iran says its nuclear program is only for peaceful power generation.
As well as Venezuela, Ahmadinejad plans to visit Nicaragua, Cuba and Ecuador - a visit that Washington has said shows its "desperation" for friends.
ALLIES
Those nations' governments share Chavez's broad global views, but do not have Venezuela's economic clout and are unable to offer Iran any significant assistance.
Regional economic powerhouse Brazil, which gave the Iranian leader a warm welcome when he visited during the previous government of Luiz Inacio Lula da Silva, was notably absent from his agenda this time.
Analysts are watching closely to see if Chavez will back Iran's threat to close the Strait of Hormuz, the world's most important oil shipping lane, or how much he could undermine the sanctions by providing fuel or cash to Tehran.
Ahmadinejad, who is subordinate to Supreme Leader Ayatollah Ali Khamenei on foreign policy and other matters, has said little about the rising tensions with the West, including the sentencing to death of an Iranian-American man for spying for the CIA. The United States denies that the man is a spy.
The Venezuelan and Iranian leaders mostly limited their comments on Monday to mutual adulation and anti-US snipes.

"President Chavez is the champion in the war on imperialism," Ahmadinejad said.
"The only bombs we're preparing are bombs against poverty, hunger and misery," added Chavez, saying 14,000 new homes had been built recently in Venezuela by Iranian constructors.
Ahead of hosting Ahmadinejad, Ecuador's government also offered moral support, pledging to ignore Western sanctions.
"We say with clarity that we do not accept those sanctions," Foreign Minister Ricardo Patino told reporters.
"We are a sovereign nation, we don't have dads punishing us and putting us in the corner for behaving badly. They (the US) should instead be sanctioning the US companies doing massive business in Tehran like Coca-Cola and Pepsi-Cola."
Follow Emirates 24|7 on Google News.