China train clocks 486 kmph for new record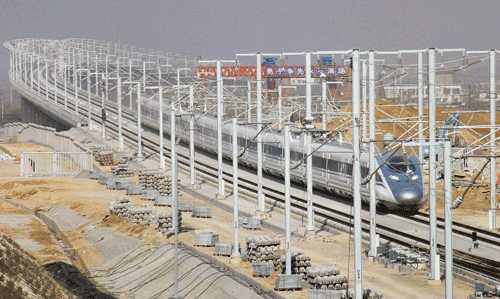 China's railways ministry said Friday that one of its passenger trains had broken a world speed record, travelling at 486.1 kilometres per hour (301 mph) in a test run, state media reported.
The feat -- a record for unmodified conventional commercial trains, according to the ministry -- was achieved on a stretch of track between the capital Beijing and Shanghai, the Xinhua news agency said.
State television showed footage of the white train cruising through the countryside.
"It not only marks a milestone in the construction of the Beijing-Shanghai high-speed railway, but also is a major achievement of China's technological innovation," ministry spokesman Wang Yongping was quoted as saying.
China is rapidly expanding and upgrading its railway network amid increased pressures on its transportation system, with plans to have 120,000 kilometres of track by 2020.
The railway authority said in July that China would spend about $120 billion to nearly double the country's high-speed rail network by 2012.
Earlier this year, the ministry announced that the high-speed line linking Beijing and Shanghai would open in 2011, a year ahead of schedule, cutting travel time between the two cities from 10 hours to four, state press said.
Once operational, the line is expected to carry 80 million passengers a year -- double the current capacity on the 1,318-kilometre route, the China Daily reported in March, citing railway officials.
During a trial run on September 28, a Chinese high-speed train had set a record of 416.6 kilometres per hour on a run between Shanghai and the eastern lake city of Hangzhou, Xinhua said.
In 2007, an experimental version of France's high-speed TGV train, equipped with two supercharged locomotives and extra-large wheels, hit a speed of 574.8 kilometres per hour on a specially prepared track.
Follow Emirates 24|7 on Google News.