Cities erupt with joy as Egyptians claim victory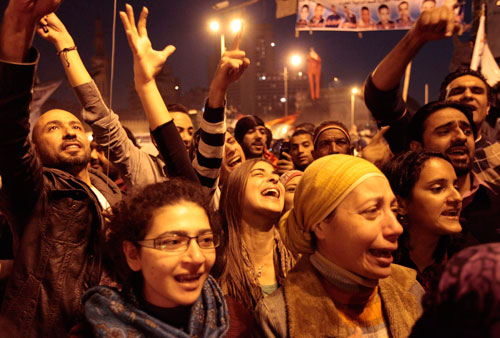 Egyptian cities erupted in celebration when President Hosni Mubarak stood down on Friday and the crowds who had protested against him claimed victory over the man who had ruled them for 30 years.
"We have brought down the regime, we have brought down the regime," chanted the hundreds of thousands of people packed into Cairo's Tahrir Square, the epicentre of the protest movement.
They waved flags, cried, cheered and embraced when the news reached them through a public address system. Drivers honked car horns and pedestrians shouted "Hurrah for Egypt", in scenes that were repeated in cities across the country.
In Tahrir Square, they chanted: "God is Greatest".
"I'm one of the ones who helped take him down. I've been out here for 17 days. The future of Egypt is now in the hands of the people," said singer Hani Sobhy, 31, celebrating in the square.
"We can't believe it. This is the end of all the injustices," said Mohammed Abu Bakr, 17, a student. Mubarak handed power to the army, ending his three decades at the helm of the Arab world's largest nation.
Outside Egypt's state television building, protesters shook hands with soldiers who had been stationed there to protect the building. Some jumped up on to their tanks.
"I can't believe I am going to see another president in my lifetime!" said Sherif el-Husseiny, a 33-year old lawyer. "Nothing can ever stop the Egyptian people any more. It's a new era for Egypt," he said.
"This should have happened a week ago," said Hassan Abdel Halim, a retired sports coach.
"The only problem is that it's now military rule. I would have liked a smooth transition through elections. Now it has to be military rule but hey, that's what the people want," he said.
Saad el Din Ahmed, a 65-year-old tailor, said: "I only have two words to say: 'Nightmare gone!'."
Follow Emirates 24|7 on Google News.