Couple wed among Cairo square protest family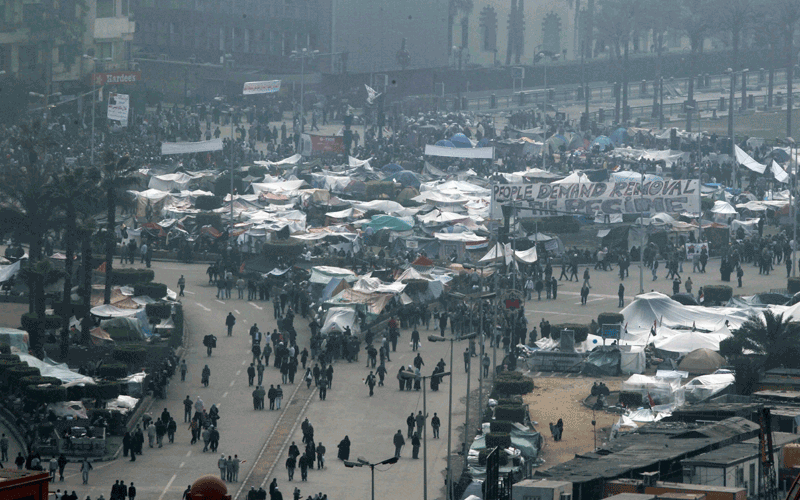 Every couple wants their family there when they tie the knot. For Ahmed Zaafan and Ola Abdel Hamid it was the family of protesters who have led demonstrations to topple Egypt's president.
They held their wedding ceremony in Cairo's Tahrir Square.
"It was either we quit Tahrir to go and have our wedding in an isolated hall or hold a ceremony right here among our people protesting in the square. We chose the latter," said Hamid, 22, a graduate in computer science.
"These protesters are family now. We have lived, laughed and protested together in this square for the past weeks. Ola and I wanted to share our happiness with everyone," said husband Zaafan, 29, a psychologist. Thousands of protesters were around them. Onlookers cheered, ululated and whistled when it was announced over speakers that they had been married by a sheikh on Sunday.
Flowers and sherbet were passed around the crowd after the sheikh concluded the marriage rituals.
The couple said their choice of Tahrir as a wedding venue was a statement of their determination to remain in the square until the people's demands were realised.
"Authorities want the world to think Tahrir is suspended in space and time while the rest of Cairo and Egypt is moving. Well, we are not at a standstill. We want the world to see we can continue to protest and go about our lives," Ahmed said.
Tahrir Square has been the hub of protests and sit-ins since Jan. 25 when Egyptians hit the streets in unprecedented numbers to demand the overthrow of President Hosni Mubarak.
"It was difficult for us to quit the square after we formed such tight bond of love and patriotism with millions of Egyptians," said Ola, who said she had no political affiliations but dreamt of a more free Egypt.
Hailing the wedding over the square's speakers, an activist said: "These two have chosen to wed in front of millions of Egyptians fighting for freedom. May God bless your marriage."
Follow Emirates 24|7 on Google News.