Crazy World: Wife jumps out of car after divorce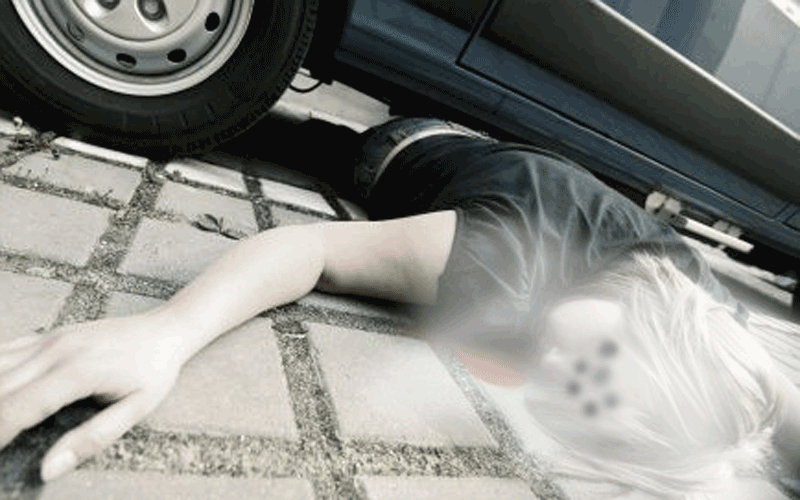 A Saudi woman opened the door and jumped out of a moving car in the middle of the road after she was divorced by her husband inside the vehicle, local press reports said on Saturday.
The unnamed man said he divorced his wife because she does not stop moaning about her illness and her "frequent unnecessary" visits to hospitals, 'Alriyadh' Arabic language daily said.
"When the man said the divorce words, she opened the door and threw herself out of the car…she was taken to hospital while the man is being interrogated," the paper said in a report from the northeastern town of Hafr Al Batin. maintained a presence at the
Forgetful mum calls fireys to babysit
(SUPPLIED)
AUSTRALIA: A frantic mother phoned firefighters to babysit her six-month-old baby after she realised she had left home without him.
Sue told 3AW she realised she had left the baby asleep in his cot at their Surrey Hills home after she had driven to pick up her three-year-old son from kinder.
"I just hadn't slept for two nights...I was concerned I was going to be late for kinder, my head was full, and I just got in the car," the embarrassed mother said.
"The baby was in the cot in the bedroom," she said.
Sue said she didn't realise she had left without her son until she arrived at the kinder, a 20-minute drive from her home, and turned around to notice he wasn't in the car.
"I remembered when I parked and looked round for him.
"I just ran in grabbed my little boy out of kinder, got him in the car and started getting on my way home while I thought about what I was going to do," she said.
Sue said she tried to ring several neighbours but when they didn't answer phoned 000.
"I thought 'Oh my god, I could spend the next 25 minutes on the phone, I just have to dial 000."
An MFB spokeswoman said emergency services were able to gain entry to the home with a spare key.
"The child was perfectly fine. Firefighters maintained a presence at the home until the mother returned home."
"It's not something that's unusual.
"At least the parents had the presence of mind to ring emergency services. they did the right thing," she said.
Police also attended the scene.
"The baby was fast asleep with his little hands above his head exactly where I'd left him," Sue said.

Teacher calls students 'lazy whiners' on blog
(SUPPLIED)
FEASTERVILLE: A high school English teacher in suburban Philadelphia who was suspended for a profanity-laced blog in which she called her young charges "disengaged, lazy whiners" is driving a debate by daring to ask: Why are today's students unmotivated - and what's wrong with calling them out?
As she fights to keep her job at Central Bucks East High School, 30-year-old Natalie Munroe says she had no interest in becoming any sort of educational icon. The blog has been taken down, but its contents can still be found easily online.
Her comments and her suspension by the middle-class school district have clearly touched a nerve, with scores of online commenters applauding her for taking a tough love approach or excoriating her for verbal abuse. Media attention has rained down, and backers have started a Facebook group.
"My students are out of control," Munroe, who has taught 10th, 11th and 12th grades, wrote in one post. "They are rude, disengaged, lazy whiners. They curse, discuss drugs, talk back, argue for grades, complain about everything, fancy themselves entitled to whatever they desire, and are just generally annoying."
And in another post, Munroe - who is more than eight months pregnant - quotes from the musical "Bye Bye Birdie": "Kids! They are disobedient, disrespectful oafs. Noisy, crazy, sloppy, lazy LOAFERS."
She also listed some comments she wished she could post on student evaluations, including: "I hear the trash company is hiring"; "I called out sick a couple of days just to avoid your son"; and "Just as bad as his sibling. Don't you know how to raise kids?"
Munroe did not use her full name or identify her students or school in the blog, which she started in August 2009 for friends and family. Last week, she said, students brought it to the attention of the school, which suspended her with pay.
"They get angry when you ask them to think or be creative," Munroe said of her students in an interview with The Associated Press on Tuesday. "The students are not being held accountable."
Munroe pointed out that she also said positive things, but she acknowledges that she did write some things out of frustration - and of a feeling that many kids today are being given a free pass at school and at home.

'Excited' flyer arrested
(SUPPLIED)
AUSTRALIA: An excited first-time flyer delayed a Perth-bound flight after telling cabin crew not to touch his bag of weapons and bombs, a court has heard.
While living on the streets in Melbourne for a year Jason Brown, 39, saved his disability pension to buy flights back to his home state of Western Australia.
But, Brown was arrested while his connecting Virgin Blue flight from Adelaide to Perth was preparing for take-off about 7pm on Monday night.
The Adelaide Magistrates Court today heard Brown was "jumping around, fidgeting and closely approaching the cabin crew and cabin manager".
Anna Brebner, prosecuting, told the court that when asked to move his bag, Brown said: "leave it there mate, it's got weapons and bombs in it".
"Ground crew were called onto the aircraft to escort him from it," she said.



Meet Larry, minister of rat-catchers
(AGENCY)
BRITAIN: British Prime Minister David Cameron unveiled the newest recruit to 10 Downing Street yesterday: a cat called Larry with a "very strong predatory drive" for catching rodents.
The four-year-old tabby joined Cameron and his family from London's Battersea Dogs and Cats Home to tackle pest control issues after a rodent was spotted on the steps of the most famous front door in the land.
Just last month the government said there were no plans to bring in a new cat, but the prime minister's official spokesman said yesterday that Cameron had "certainly been persuaded that it was a good idea".
"Whilst in Battersea's care, Larry showed a very strong predatory drive and enjoyed playing with toy mice," the spokesman said.
Larry's appointment comes after a rat was spotted in two television news bulletins scurrying around outside the black door of the prime minister's residence in London.
There has been no Downing Street cat since Sybil, who moved in with then Chancellor of the Exchequer Alistair Darling in 2007 but returned to Edinburgh after six months, having failed to settle in London.
Sybil was the first cat to live in the street since the legendary Humphrey, a stray who took up residence under prime minister Margaret Thatcher and outstayed John Major.
Tony Blair sent Humphrey into retirement in 1997 amid persistent speculation that his wife Cherie forced him out.
Humphrey was on the payroll, receiving £100 (Rs 7,350) a year from the Cabinet Office budget.
But with Cameron's coalition government facing public anger over sweeping cuts to public services, there was no immediate word on where funding for Larry would come from.



Tales of porn and drugs surface from pit
(SUPPLIED)
CHILE: Their spirit in the face of seemingly insurmountable adversity gripped the world. But the true story of the 33 trapped Chilean miners is a somewhat less noble tale.
But human reserves alone were not always enough to keep the 33 trapped Chilean miners' morale high, it has been revealed.
To make their ordeal a little more bearable as they awaited rescue, drugs were smuggled down to them in family letters, a new book claims.
They also sought a further lift during the 69 days they spent 800 metres underground by asking for blow-up sex dolls.
When this was refused because the doctor in charge feared having to share them would lead to jealousy, the miners had to make do with pin-up posters instead.
Marijuana, posted down a communications shaft, did not necessarily promote camaraderie either, the book says.
One miner, Samuel Avalos, noticed how a group of his colleagues would peel away, he suspected, to smoke the drug. But he said they "never even offered me one", although he was desperate to relieve the stress of his predicament.
The book's author, New York Times journalist Jonathan Franklin, said the small amount of drugs "created more tension than it relieved". Franklin claims worried officials discussed using a sniffer dog to intercept drugs before they were posted.


Follow Emirates 24|7 on Google News.