Cruise survivors feared dying like on 'Titanic'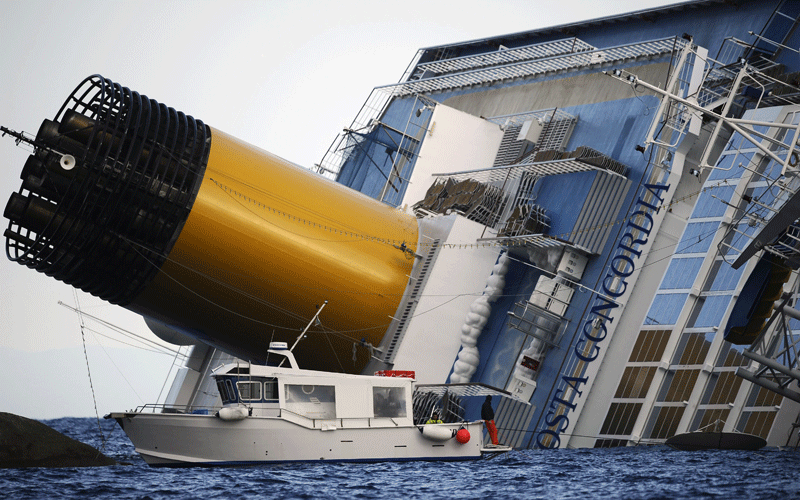 The capsize of an Italian liner turned a holiday into the cruise from hell, survivors said in reports Monday that told how they had feared for their lives or felt they were the cast of "Titanic".
When the massive ship went aground off the Tuscan island of Giglio, some survivors said the horrendous experience made them think of the stars of the Hollywood blockbuster.
For others it was too close a brush with death, leaving them scarred with memories of panic and hysteria.
Following are some quotes from survivors as some returned to their homelands.
"When we were sitting on the side of the ship I said to her 'now we know what Leonardo DiCaprio and Kate Winslet felt like'," Seamus Moore told the Irish Times as he and his wife Carol arrived at Dublin airport.
"And she (Carol) said 'well at least Kate lived'."
The 52-year-old Moore added that it was "my first cruise and my last!"
"I just thought my life was over, getting in that water. I thought, if I don't die from the swimming part, I'm going to die from the shock of having to get in it," said Mandy Rodford, 45, arriving at London's Heathrow airport.
She and her husband John had taken the cruise to celebrate their fourth wedding anniversary.
"The little mermaid's got my belongings. The lot!", joked Rodford as their stateroom was on the submerged side of the ship.
Rose Metcalf, a 23-year-old crew member, wiped away tears as she told how she wrote a note to her mother in case she didn't survive.
"There was absolute panic. It was just terrifying, I was just trying to keep people calm. People were white, people were crying, screaming," she told BBC television upon her return to England.
"I'm just very, very lucky to be here."
"I thought we were going to die. I had already worked on several ships and I quickly understood that we were going to sink," Artur Silva, a 63-year-old Portuguese passenger, told the daily Correio da Manha.
Bosnian passenger Sea Alibegovic, hospitalised with injuries, said he "looked death in the eyes".
"Everyone was running around in mass hysteria, and each of us only thought about saving our own skins," his wife Nasima told the Bosnian newspaper Dnevni Avaz.
Follow Emirates 24|7 on Google News.