Death toll rises to 14 in Mexico helicopter crash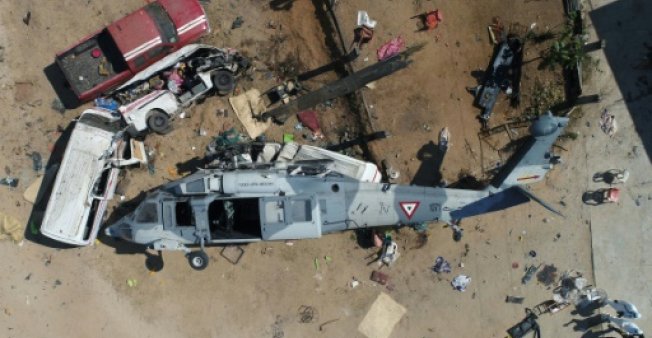 The death toll from a helicopter crash that followed a strong earthquake in southern Mexico rose to 14 Sunday, as the defense minister said the government assumed full responsibility.
The tragedy struck Friday night as a military helicopter flew the interior minister and other officials to an area near the epicenter of a 7.2-magnitude earthquake that shook Mexico earlier that evening.
Officials say a dust cloud caused the pilot to lose control, keel over and crash into an open field where local residents had set up camp for the night because they feared aftershocks could cause their homes to collapse.
Authorities said 14 people were killed in all -- up from an earlier toll of 13 -- including a six-month-old baby and a 10-year-old girl.
All victims in the accident were on the ground.
Inside the helicopter, Interior Minister Alfonso Navarrete and Oaxaca state Governor Alejandro Murat were unharmed.
Defense Minister Salvador Cienfuegos traveled to the southern town of Santiago Jamiltepec, where the accident struck, to meet with families of the victims.
"I want to convey our condolences, on behalf of all Mexican soldiers," he said.
"The defense ministry completely assumes its responsibility for what happened."
The earthquake caused relatively minor damage. Ironically, the only deaths were the people killed in the helicopter crash.
Another 15 people were injured in the accident.
The quake was powerful but struck at a relatively deep 24.7 kilometers, according to the US Geological Survey.
Still, it caused panic across a broad swathe of southern and central Mexico, where the memory is still fresh of two earthquakes last September that killed a combined 465 people.
Mexico sits at a spot where five tectonic plates come together, making it particularly vulnerable to earthquakes.


Follow Emirates 24|7 on Google News.