Don't intrude into our water, Philippines to China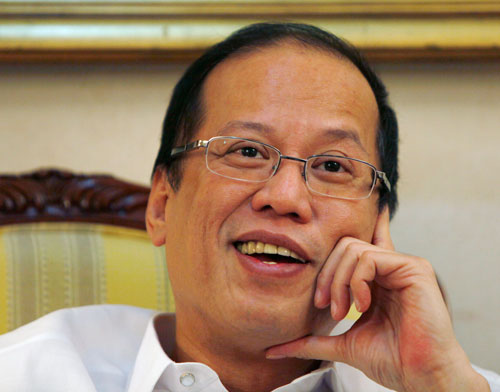 Philippine President Benigno Aquino III has told The Associated Press that his country will not be bullied by China in a territorial spat over the Spratly Islands and that Beijing should stop intruding into waters claimed by Manila.
Aquino said Friday his government has completed an oil exploration around Reed Bank, about 80 miles (130 kilometers) from western Palawan province and that the prospects are "very good." He declined to elaborate for fear of further stoking tension over the area, which also is claimed by China.
The Chinese ambassador in Manila said last week that China has not started to drill for oil in the area yet and warned others to stop any oil exploration in the area without Beijing's permission.
China dispatches patrol boat
China has dispatched one of its largest maritime patrol ships on a first-ever visit to the Southeast Asian city-state of Singapore amid a spike in tensions over disputed territory in the South China Sea.
The Haixun-31 left Wednesday and will stay in Singapore for two weeks of exchanges on search and rescue, anti-piracy and port management operations, Chinese state media reported Thursday.
Similar ships have been accused of harassing foreign shipping in the South China Sea, including US Navy surveillance vessels.
China, Vietnam and the Philippines have traded diplomatic barbs recently over claims to the resource-rich South China Sea and its island groups. Vietnam's navy conducted live-firing exercises Monday after accusing Chinese boats of disrupting oil and gas exploration in its waters.
The 3,000-ton, helicopter-equipped Haixun-31 is one of two vessels of that size belonging to the Maritime Safety Administration, one of five nominally civilian agencies tasked with overseeing China's interests at sea. All of those departments are undergoing major expansions as Beijing moves to assert its territorial claims and economic interests in both the South China Sea and the East China Sea, where it has territorial disputes with Japan and Taiwan.
In coming years, three dozen vessels will be added to the fleet, an unnamed official with the State Oceanic Administration, another of the five agencies, announced last year. Defense experts say the People's Liberation Army Navy, which is also undergoing a thorough upgrade, has been gradually strengthening its command over the maritime patrol agencies, boosting their armaments and improving coordination.
Philippines also sending navy ships
The Philippines said on Friday it would send its ageing navy flagship into disputed South China Sea waters amid rising tensions with Beijing over their competing claims.
However defence department spokesman Eduardo Batac insisted the deployment was a routine assignment and had nothing to do with an announcement by China on Thursday that one of its maritime patrol vessels would pass through the area.
"I don't think these are connected," Batac told reporters.
"The navy conducts regular offshore patrols and we should not connect the deployment of Rajah Humabon to the deployment of this maritime vessel of China."
Batac said he was unaware if the Chinese vessel had reached waters claimed by both countries.
He also did not say when the Philippine vessel would be dispatched or exactly where it would go.
The Rajah Humabon, a former US Navy frigate that was commissioned during World War II, is one of the world's oldest warships. It began service in the cash-strapped Philippine Navy in 1980.
China criticised the US on Tuesday over a senator's call for multilateral negotiations to resolve festering territorial disputes in the South China Sea.
Foreign Ministry spokesman Hong Lei said only those countries with territorial claims in the vast resource-rich waters should get involved in such discussions.
"We hope countries not related to the disputes over the South China Sea will respect the efforts of directly related countries to resolve the issue through direct negotiations," Hong told a regularly scheduled news conference.
Follow Emirates 24|7 on Google News.