Egypt army gives panel 10-days to reform constitution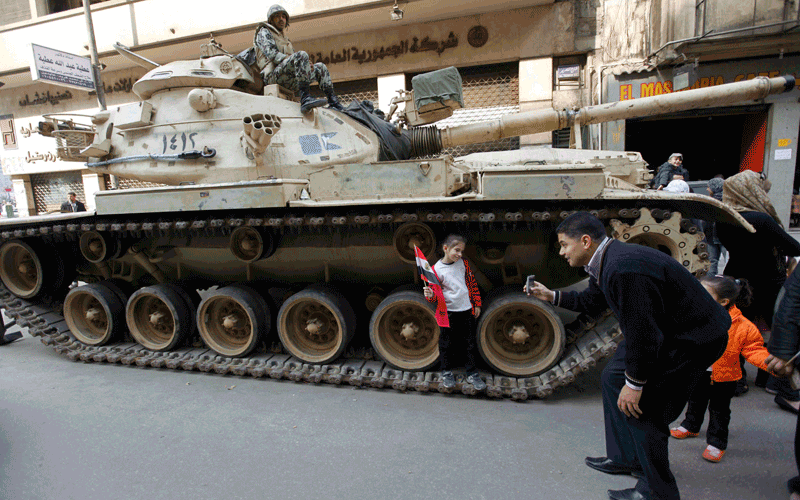 Egypt's military regime warned on Tuesday that a wave of strikes sweeping the country was "disastrous", as it gave a panel of civilian experts 10 days to revise the constitution.
Against a backdrop on ongoing nationwide walk-outs and street protests, the junta promised to rapidly restore constitutional government.
The eight-member panel "must finish its work in a period of no longer than 10 days after the date of this decision," said a statement from the Supreme Council of the Armed Forces.
On Sunday, the military suspended the constitution and dissolved parliament, but it has promised to oversee a six-month transition to democratic rule. It urged strikers to return to work but stopped short of ordering them to do so.
"The Supreme Council is aware of the economic and social circumstances society is undergoing, but these issues cannot be resolved before the strikes and sit-ins end," the state news agency MENA quoted the military as saying.
The constitutional panel got straight down to work.
"The armed forces want to hand over power as soon as possible. They want amendments to the constitution," said panel member Sobhi Saleh, a lawyer and former lawmaker from the Islamist opposition group the Muslim Brotherhood.
"We met with the field marshal and the chief of staff," Saleh told AFP, referring to the chairman of the Supreme Council of the Armed Forces and Egypt's de facto head of state, Field Marshal Hussein Tantawi.
"We are revising the constitution to remove all restrictions and obstacles and to meet the aspirations of the revolution's and the people's demands."
The committee is headed by Tareq al-Bishari, a respected former head of Egypt's administrative court.
The strikes and protests that have gripped Egypt abated on Tuesday as the nation observed the birthday of the Prophet Mohammed, but they threaten to flare again as Egyptians use their newly-won freedom to press for higher wages.
The uprising against Mubarak has splintered into protests by workers in the transport, health care, oil, tourism and textile sectors and state-owned media and government bodies. Banks and the stock exchange are closed.
Meanwhile, the Muslim Brotherhood -- which was banned but broadly tolerated under Mubarak's rule -- confirmed that it plans to form an official political party to take part in upcoming legislative polls.
"The Muslim Brotherhood believes in the freedom to form parties and is therefore determined to have its own," said Mohammed Mursi of the group's political bureau, in a statement.
Egypt's most powerful organised opposition group ran candidates as independents under the slogan "Islam is the solution" in 2005 parliamentary elections, winning around 20 percent of seats in the legislative body.
Follow Emirates 24|7 on Google News.