Egypt army pledges not to fire on protesters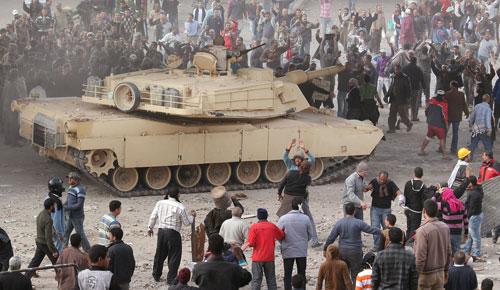 The US military's top officer on Thursday said Egyptian army leaders have "reassured" him they will not fire on protesters, amid days of anti-government unrest in Cairo.
"I mean in the discussions I've had with their military leadership, they've reassured me that they have no intent to fire on their own people," Admiral Mike Mullen said in a television interview with the "Daily Show with Jon Stewart."
Egyptian Vice President Omar Suleiman denied Thursday that pro-government elements killed protesters in violent unrest in Cairo, insisting to ABC News: "they behaved very well."
Asked about shooting into the crowds of protesters that have gathered at Cairo's Tehrir Square, Suleiman replied, in English: "No. Nobody being killed by rifles or by snipers. No way."
In the interview by ABC's Christiane Amanpour, she questioned again whether the newly appointed vice president was denying that pro-government forces killed protesters in the square. He said, "They behaved very well."
Suleiman also said that Egyptian forces would "not use any violence against" the protesters.
"But we will ask them to go home. And we will ask their parents to ask them to come home."
Amanpour also spoke with embattled Egyptian President Hosni Mubarak, but did not record their talks. She said he told her that he wants to leave office, but fears there will be chaos if he resigns now.
Follow Emirates 24|7 on Google News.