Egypt defence minister at Tahrir Square protest: TV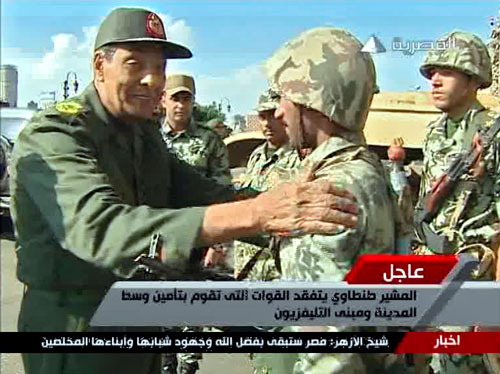 Egypt's Defence Minister Mohammed Hussein Tantawi, also deputy prime minister, inspected the anti-regime protest at Cairo's Tahrir Square on Friday, an AFP photographer said.
"The defence minister is inspecting the situation on Tahrir Square," state television said, adding another announcement encouraging people to leave the epicentre of protests against President Hosni Mubarak now in their 11th day.
An AFP photographer said that Tantawi addressed the crowd, surrounded by soldiers, who called on the protesters to sit down.
"The man (Mubarak) told you he won't stand again," Tantawi said, after Mubarak announced he would not run for re-election in the next presidential election in September.
He also repeated a call from the Egyptian government for the country's best organised opposition group, the Muslim Brotherhood, to join a dialogue with the regime.
"Tell the guide to go sit down with them," Tantawi said, referring to the Brotherhood's supreme guide Mohammed Badie.
Egyptian Vice President Omar Suleiman on Thursday said he had asked the Brotherhood to begin dialogue, but the opposition group categorically rejected the call.
"The people have brought down the regime and we see no point in any dialogue with an illegitimate regime," Brotherhood spokesman Mohammed Mursi said.
Follow Emirates 24|7 on Google News.