Egypt's bureaucratic heart paralysed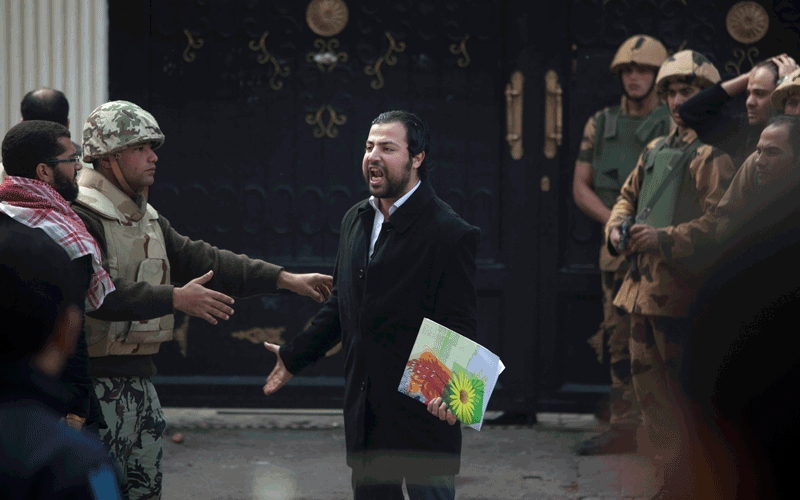 Dozens of employees and clients waited anxiously Monday outside Egypt's central administrative complex, Mugamma el-Tahrir, as opposition protesters occupying Cairo's Tahrir Square blocked all entrances.
"Protesters have prevented us from getting in," said Kamal, who idled with a group of colleagues some 20 metres (yards) away from the imposing slab of a building, the heart of Egypt's highly bureaucratic state machine.
Separating them from the building, which reportedly houses 14 government departments with some 18,000 employees, was a picket of anti-regime protesters.
Demonstrators have vowed to hold Tahrir Square until President Hosni Mubarak steps down, and a tented encampment has sprung up in the shadow of the Mugamma.
"Other employees came earlier and went back home. We'll wait and see," said Kamal, not yet ready to give up on returning to work.
The Mugamma has been shut for 14 days and, as life has begun to return to the streets of Cairo after authorities ordered banks to reopen and pushed back the daily curfew until 07:00 pm, it has remained out of the city's life cycle.
The state-owned daily Al-Ahram reported on Monday that the Mugamma had partially and temporarily reopened on Sunday, when employees and clients were told to use back entrances instead of the main gates at the square.
"I came yesterday. Employees worked, and some people managed to obtain passports. Today, they have shut it," said Ali Mahmud, a state employee.
Just as they have blocked all roads to the square with defensive barricades, protesters blocked access to the 13-storey, 5,000 square metre (53,000 square feet) complex.
Over the years the Mugamma has become a symbol of the heavy burden bureaucracy imposes on Egyptians in their everyday life.
It was the main setting for the 1992 movie comedy "Terrorism and Kebab", focusing on government corruption, and starring leading actor Adel Imam, whose character inadvertently ends up taking the mammoth building hostage.
When asked about his demands, he asks for a kebab for everyone in the building, as many Egyptians cannot afford to buy meat on a regular basis.
But on Monday, many would-be visitors were more frustrated with the anti-regime protesters than they were with the bureaucrats.
"They should push back. It is not fair to hamper people's affairs," said 27-year-old Mohammed, waiting behind a line of soldiers.
"I need a certificate to travel. I am going to Saudi Arabia for work," he said, adding that he had been offered a contract as a driver and now needs only one more official document before his departure.
Mohammed is one of many who expresses sympathy with reform demands, but who says Mubarak has done enough by saying he will not run for a new presidential term in September.
"The demands of the people are all the same, but the president has answered these demands. They should open the roads now," he said.
But protesters have not showed any sign of budging.
"Where are you going?" one asked a woman as she tried to cross from the square to the back entrance of the Mugamma. "The Mugamma is shut."
Protesters camping in the square have issued a list of demands, topped by the immediate departure of Mubarak and the dissolution of parliament.
"I need 10 unbearded men to stand in the picket line," called a protest organiser, demanding clean-shaven volunteers to combat "defamation campaigns" alleging partisans of the Muslim Brotherhood control the protest.
Inside the square, the routine was as usual for the protesters two weeks after their sit-in began, with many walking around with dustbins collecting litter, transferring it out to be loaded onto a municipal truck.
Dozens gathered around a man whom they claimed was caught with a can of petrol trying to start a fire in the Mugamma. They eventually handed him in to the army who led him away after a rough manhandling.
"This is an attempt to accuse us of trying to burn the Mugamma," said one protester.
Follow Emirates 24|7 on Google News.