ElBaradei says Mubarak should go by Friday: TV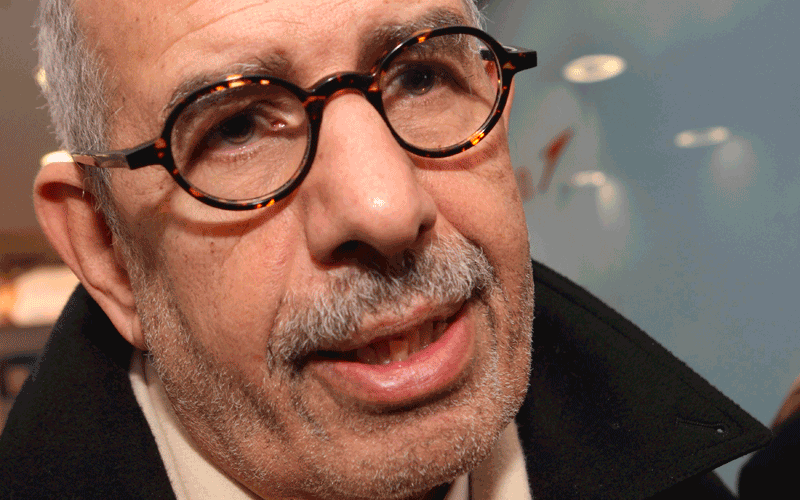 Egypt's embattled President Hosni Mubarak should step down by Friday, Mohamed ElBaradei, who is emerging as a leader of anti-regime protests, told Al-Arabiya satellite channel.
"What I have heard (from protesters) is that they want this to end, if not today (Tuesday), then by Friday maximum," said ElBaradei, adding that the Egyptians have marked Friday as "departure day."
"I hope President Mubarak goes before this and leaves the country after 30 years of rule... I don't think he wants to see more blood."
ElBaradei wants 'safe exit' for Egypt's Mubarak
Embattled Egyptian President Hosni Mubarak should be allowed to stand down without fear of prosecution, top dissident Mohamed ElBaradei told a US-funded Arabic television channel on Tuesday.
"I'm for a safe exit for President Mubarak," the Nobel peace laureate told Al-Hurra television.
"We're going to turn the page, we can pardon the past," he said, as hundreds of thousands rallied around Egypt for an eighth day demanding Mubarak quit.
Recent protest demands have said they also want Mubarak to stand trial for alleged crimes committed by his regime.
US ambassador talks to Egypt's ElBaradei
The US ambassador to Egypt spoke to the country's top dissident Mohamed ElBaradei Tuesday as mass protests built in Cairo, in another apparent sign Washington is looking to the post-Mubarak era.
Ambassador Margaret Scobey spoke to the former globe-trotting diplomat for the first time since he flew back to Egypt as public unrest and demonstrations mounted against the 30-year strongman rule of President Hosni Mubarak.
Scobey's conversation with ElBaradei, who has become the leading public critic of the Mubarak government, came as part of her outreach to various opposition groups, a US official told AFP on condition of anonymity.
The official said she delivered a similar message to ElBaradei on the crisis that US officials have made clear in public: namely that Washington wants a political transition but will not seek to dictate Egypt's political future.
The US ambassador's conversation with ElBaradei came a day after Washington said it sent a veteran former US diplomat and envoy to Egypt, Frank Wisner, to meet top Egyptian officials and report back on the situation.
The New York Times reported Tuesday that Wisner would meet Mubarak directly, as President Barack Obama's administration believed it would be "useful" to get the president's perspective.
The daily said officials would not say whether Wisner would be urging Mubarak to leave office or bringing a specific message from the United States.
But one senior official told the paper, "When you have old friends get together, it's a two-way conversation."
On Monday, Washington has shied away from billing Wisner as an American "envoy." But on Tuesday morning the State Department confirmed the Obama administration had asked him to go.
Scobey's move also coincided with the strongest show of support yet from anti-government protesters in Egypt, as massive crowds flooded Cairo and Egypt's second city Alexandria, pouring relentless pressure on Mubarak to quit.
On Sunday, ElBaradei had sharp criticism for the carefully calibrated US stance on the protests rocking a government which has been a stalwart US ally for decades and at the center of its Middle East diplomacy.
"You are losing credibility by the day. On one hand you're talking about democracy, rule of law and human rights, and on the other hand you're lending still your support to a dictator that continues to oppress his people," ElBaradei told CBS from Cairo.
The United States has warned the Egyptian government not to use force against demonstrators and stressed their right to express their universal aspirations for freedom of expression.
But it has insisted that it is not up to Washington to dictate the country's political system or government -- an apparent attempt to guard against a backlash in a country where polls show US policy is unpopular.
"That is not for our government to determine. That is for the people of Egypt to determine," White House spokesman Robert Gibbs said Monday.
In the recent past, Scobey met ElBaradei in June 2010, while Obama had a meeting with him at the UN Security Council Summit on Nuclear Nonproliferation and Nuclear Disarmament in September 2009.
The United States, meanwhile, Tuesday ordered the departure of all non-emergency US government staff from Egypt amid days of protests against Mubarak, the State Department said.
"The Department of State will continue to facilitate the evacuation of US citizens who require assistance," State Department spokesman Philip Crowley said in announcing the move.
He said the departure of all non-emergency US government personnel was ordered Tuesday "in light of recent events."
Follow Emirates 24|7 on Google News.