EU approves tough oil embargo on Iran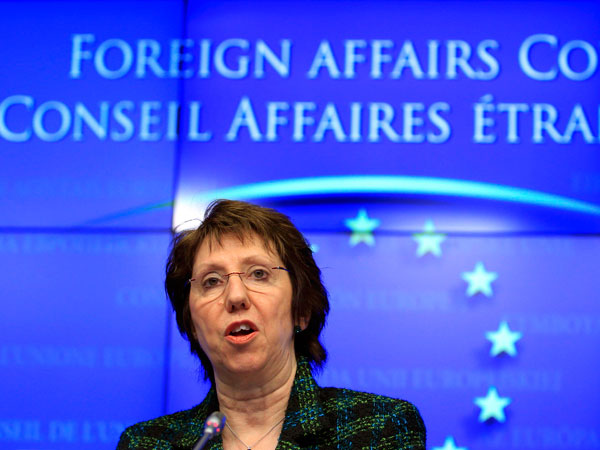 The EU's move to slap an embargo on Iranian oil, along with new US measures in response to Tehran's suspect nuclear drive, appeared to have an immediate effect and brought swift condemnation from Tehran.
The oil ban announced Monday, along with sanctions against Iran's central bank and other measures, came as western powers rounded on Tehran to return to negotiations amid concerns it is inching ever closer to building a nuclear bomb.
Iran denies that its nuclear programme is for military purposes and furiously denounced the unprecedented European Union measures as the United States further tightened the noose, announcing sanctions against Iran's state-owned Bank Tejarat, one of the few still accessing the international financial system.
US President Barack Obama lauded the EU move to choke Tehran's oil exports, amid evidence that sanctions are beginning to bite.
"I applaud today's actions by our partners in the European Union," Obama said.
"These sanctions demonstrate once more the unity of the international community in addressing the serious threat presented by Iran's nuclear programme.
"We will continue to increase the pressure unless Iran acts to change course and comply with its international obligations."
The Iranian currency, the rial, tumbled to a record low against the dollar on Monday, after several months of steady declines.
According to one senior Treasury official, the Iranian currency has lost more than 70 percent of its value against the dollar since autumn.
Oil prices were also up modestly Monday after the EU announced its embargo on Iran's crude exports with Brent North Sea crude for March climbing 72 cents to ê110.58 a barrel in London.
Iranian foreign ministry spokesman Ramin Mehmanparast denounced "the method of threat, pressure and unfair sanctions."
The hawkish government of Iran's arch-foe Israel appeared reassured but Tehran's ally Russia warned "unilateral sanctions" could be counter-productive, preventing Iran "from making any concessions or corrections."
Piling on the pressure from Europe, the leaders of France, Germany and Britain in a move separate from the sanctions urged Iran's leaders "immediately to suspend its sensitive nuclear activities".
"Today's sanctions show how serious EU member states are about preventing nuclear proliferation and pressing Iran to return to the negotiating table," said British Foreign Secretary William Hague.
"Iran continues to defy UN resolutions and enriches uranium to 20 percent for which there is no civilian explanation," Hague added at talks with counterparts from the 27-nation bloc on the sanctions.
After weeks of fraught talks on an embargo which could hurt debt-straddled European Union nations, the ministers agreed on an immediate ban on oil imports and a gradual phase-out of existing contracts between now and July 1.
They also froze the assets of Iran's central bank "while ensuring that legitimate trade can continue under strict conditions", a statement said.
In the toughest action yet against Iran's ability to fund its nuclear programme, the EU outlawed petrochemical imports and investments and banned the sale of gold, diamonds and other precious metals.
Global powers involved in negotiations on Iran's nuclear programme are still waiting for Tehran to come forward and resume talks left in limbo since January last year, said EU foreign policy chief Catherine Ashton.
Follow Emirates 24|7 on Google News.