EU Green Deal leaders visit the UAE for IRENA General Assembly and Abu Dhabi Sustainability Week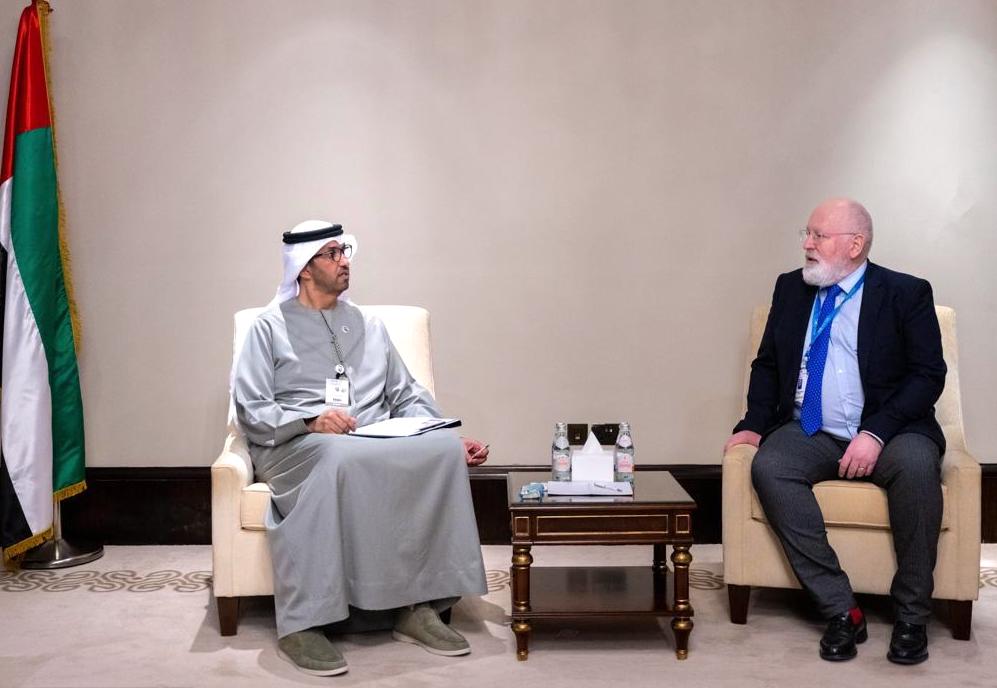 The European Commission Executive Vice-President for the European Green Deal, H.E. Frans Timmermans, and the European Commissioner for Energy, H.E. Kadri Simson, have just concluded a visit to the United Arab Emirates where they participated in the 13th session of the General Assembly of International Renewable Energy Agency (IRENA) in Abu Dhabi and the launch of the in Abu Dhabi Sustainability Week.
During his visit, Executive Vice-President Timmermans held high-level meetings with UAE counterparts including H.E. Dr Sultan Al Jaber, Minister of Industry and Advanced Technology, Climate Change Special Envoy for the UAE and the COP28 President-Designate, H.E. Mariam bint Mohammed Almheiri, UAE Minister of Climate Change and Environment, as well as H.E. Reem Al Hashimi, UAE Minister of State for International Cooperation. The discussions focused on ways to increase cooperation in the fields of energy and sustainable development.
"As president of the next climate COP, the UAE will play a crucial role in shaping the global response to the climate crisis. The window to stay within the limits of the Paris Agreement is closing. As humanity, we still have a shot at survival, but our chances are getting smaller every day. I have no doubt that under the skillful leadership of the UAE and Dr Sultan Al Jaber as COP28 president, the world can succeed in doing what is needed," said Executive Vice-President Timmermans adding that he had "confidence in his ability to steer this year's climate summit in the right direction".
At IRENA, EU Executive VP Frans Timmermans engaged in a dynamic dialogue with 20 young leaders from the IRENA Youth Forum, facilitated by the Arab Youth Center. He emphasized the significance of youth voices in shaping a sustainable future for our planet.
On the sidelines of his participation at IRENA, Timmermans commented: "Russia's invasion of Ukraine has prompted the European Union to accelerate its green energy transition. Our energy sovereignty cannot be found in fossil fuels. Our energy sovereignty will be found in renewables such as wind and solar."
On the final day of his visit, Executive Vice-President Timmermans visited Jubail Mangrove Park where he planted a mangrove tree as a symbol of support for the UAE's plans to plant 100 million mangroves by 2030.
Executive Vice-President Timmermans also attended the official opening ceremony of Abu Dhabi Sustainability Week and took part in a conversation moderated by Eithne Treanor where he discussed Europe's response to the global climate crisis and set out the EU's plans to accelerate the green transition.
Commissioner Kadri Simson attended a Ministerial Dialogue at IRENA on "Regional Energy Transition Outlooks: Southeast Asia Energy Transitions". She then delivered a keynote speech at a Ministerial Dialogue on "Critical materials for the Renewables-centered Energy Transition: How to jointly harness opportunities". "The green energy transition has never been as urgent and necessary as it is now. Renewables are the foundation of any clean and sustainable energy system and in the EU, we are committed to massively scaling up wind and solar installations. IRENA provides an excellent platform to discuss how to boost renewable energy across the globe. This year's General Assembly, ahead of COP28, was particularly important for taking stock of progress and addressing challenges." she said.
Commissioner Simson then participated in a high-level event under the IRENA-UAE "Women in Diplomacy" campaign entitled "Empowering Lives and Livelihoods". The event presented the concept of a USD 1-Billion financing facility which will be launched at COP28. It aims to strengthen value chains in both the agri-food and health sectors, simultaneously driving equity benefits especially for women who are most impacted by climate change, lack of clean energy, access to resources and opportunities.
She also attended the Atlantic Council Global Energy Forum where she participated in a fireside chat with Ambassador Richard Morningstar where she said: "The energy system is going through a profound transformation due to the climate challenge. We will work with allies to ensure our energy security and green transition."
The EU officials also met with representatives of the UAE and international business community to discuss opportunities for cooperation in various sectors, including renewable energy and circular economy.
The EU is one of the UAE's main trading partners and the visit aimed to further strengthen the already strong economic ties between the two sides. This visit is part of the EU's ongoing efforts to strengthen its relations with partners in the Gulf region and to promote stability and prosperity in the region. In May 2022, the European Union introduced its Joint Communication on a Strategic Partnership with the Gulf, aiming to broaden and deepen the EU's cooperation with the Gulf countries in various areas, including energy and climate change.
Follow Emirates 24|7 on Google News.