EU, US tighten sanctions noose on Iran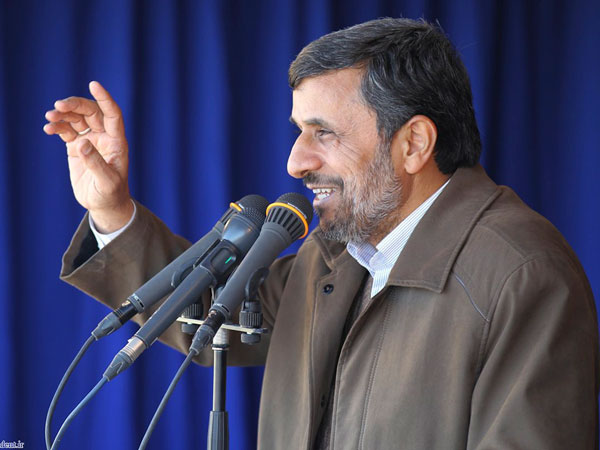 The European Union and the United States on Wednesday tightened the sanctions noose around Iran, with diplomats in Brussels saying a preliminary agreement had been reached on an EU embargo of Iranian oil.
Washington hailed the agreement, saying it was "the result of lots of consultations" with its EU allies. It announced that US Treasury Secretary Timothy Geithner was to go to China next week to discuss "coordination" over new US sanctions against Iran's central bank.
The West's double squeeze on Iran adds to existing sanctions imposed over Tehran's nuclear programme that is increasingly destabilising the Islamic republic oil-dependent economy.
Iran's fury at the moves being made against it was apparent in threats this week it made against the US navy.
Military and political leaders railed against the permanent US presence in the Gulf and warned the "full force" of Iran's navy would be unleashed if a US aircraft carrier tried to enter the waterway.
Iran has also threatened to close the Strait of Hormuz, the narrow channel at the entrance to the Gulf through which 20 percent of the world's oil flows, if it is attacked or sanctions block its oil exports.
The bellicose words came after 10 days of war games in which Iran pointedly test-fired three types of missiles designed to sink enemy warships.
The United States has dismissed the threat against its navy, saying it would continue its regular warship deployments to the Gulf.
The pressure on Iran -- OPEC's second-biggest oil exporter after Saudi Arabia -- and the potential for military conflict between it and the United States pushed oil prices sharply higher.
New York's main contract, West Texas Intermediate (WTI) for delivery in February, jumped during trade to ê103.74, a level last touched on May 11. The contract fell back to ê103.22, down 26 cents from Tuesday's closing level.
In London Brent North Sea crude for February rose to ê113.97 per barrel, its highest level since November 14. It later stood at ê113.70, up ê1.57 from Tuesday.
"I don't think Iran is going to do anything. But... the potential impact would be so large that people have to price it in to the market," said Jason Schenker, a US analyst with Prestige Economics.
"The consequences of any military action in the Middle East will be enormous. A spike in crude prices will kill off any recovery in the US," said Nick Trevethan, a senior commodities strategist at ANZ Research in Asia.
Iran is already trying to find ways to cope with existing Western economic sanctions, and four sets of UN sanctions, that have curtailed foreign investment and already complicated payments for its oil.
The United States and other Western nations have imposed the sanctions to punish Tehran for what they believe are nuclear activities being used to develop atomic weapons.
Iran denies that allegation, saying its nuclear programme is entirely peaceful.
On Wednesday the country grappled with turmoil on its domestic currency market, with the authorities trying to shore up the rial after it fell to an all-time low on Monday following the new US sanctions targeting the central bank.
Although the government insisted the currency volatility had nothing to do with sanctions, ordinary Iranians were becoming increasingly nervous over their nation's economic future.
Many were seeking to protect savings by buying dollars only to find traders refusing to sell at a low rate hastily imposed by the central bank.
The West is attempting to deal harder blows to Iran by blocking much of its oil exports and stopping other nations dealing with Iran's central bank, which processes most oil sales.
Oil revenues account for 80 percent of Iran's foreign currency earnings.
Although Tehran has said it will have no trouble to continue selling its oil, mainly to China, India and other Asian clients, the West intends to see those sales made riskier and subject to hefty discounts.
In Brussels, a diplomat told AFP "there is an agreement in principle to forge ahead" with an EU embargo on Iranian oil.
But "there is still a lot of work" to agree on its timing for a foreign ministers' meeting on January 30, he added.
French Foreign Minister Alain Juppe said: "It's at this occasion (the ministers' meeting) I hope that we can adopt this embargo on Iranian oil exports."
He said some EU nations buying significant amounts of Iranian oil -- mainly Spain, Greece and Italy -- needed to be provided with "alternative solutions".
"These alternative solutions exist and I think we can attain the objective by the end of January," he said.
US State Department spokeswoman Victoria Nuland said Washington hoped the sanctions would be backed by more nations.
"These (EU measures) are the kinds of steps that we would like to see not just from our close allies and partners in places like Europe but from countries around the world," she said.
"We do believe that this is consistent with tightening the noose on Iran economically," she said. "We think that the place to get Iran's attention is with regard to its oil sector."
Geithner's trip to China was part of that US push.
Earlier on Wednesday, China said it opposed "unilateral" sanctions against Iran, after US President Barack Obama signed into law the new measures targeting the Iran's central bank.
The building pressure on Tehran coincided with preparations for elections in several key countries this year, sharpening the rhetoric coming from the capitals.
France and the United States are to have presidential polls, in April and November, respectively.
In Iran, legislative elections are to be held in March.
Follow Emirates 24|7 on Google News.