Explosions kill 25 in Aleppo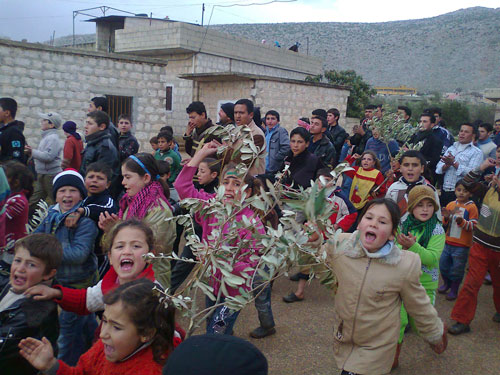 Two explosions outside security bases in Aleppo killed 25 soldiers and civilians and injured 75 on Friday, Syrian television said, in the worst violence in Syria's commercial hub in an 11-month-old revolt against President Bashar al-Assad.
State television showed blood, bodies and shattered concrete strewn across a street outside one of the apparent targets of the blasts, a military security building in the northern city.
The explosions follow three suicide bombings in the capital Damascus in December and January which killed at least 70 people. Syria's government, blaming al Qaeda for at least some of those attacks, vowed an "iron-fist response".
Aleppo had been spared most of the unrest roiling Syria since anti-Assad protests erupted in March, but it has seen increasing protests and violence in recent weeks.
Syria's private Addounia Television said initial information showed 11 civilians and security force members were killed in an explosion at a military security building and six more at a base for security forces.
A reporter on state television, in a live broadcast from outside the military security complex, said the blast had been audible 20 km (12 miles) away.
The damage shown in the footage suggested the bomb may have detonated on the road outside the five-storey building. A concrete wall around it was badly damaged and its windows were blown out. At least one car appeared blackened and destroyed, and several more were damaged.
Lifting blankets and plastic sheets which had been laid over corpses on the pavement, the reporter showed a body with its head blown off and other bloodied human remains including a limbless torso and a blown off foot.
"We apologise for showing these pictures, but this is the terrorism which is targeting us," the reporter said, at times choking with emotion.
He said children were among the dead, showing a single rollerblade left on the pavement.
"Is this the freedom of Hamad and Erdogan?" one man shouted, referring to Qatari Prime Minister Sheikh Hamad bin Jassim and Turkey's Prime Minister Tayyip Erdogan, who have led the chorus of regional criticism against Assad. "Hamad, you dog," he said.
Syrian television showed similar bloody scenes at the second site, hit by what the reporter said was a car bomb. The blast had gouged a crater several metres (yards) wide, blown a truck onto its side and hurled chunks of concrete over a wide area.
The television showed people pulling body parts out of a black refuse bin for the camera.
The opposition Syrian Observatory for Human Rights earlier quoted Aleppo residents as saying three blasts occurred, including one near a security building. They also reported hearing gunfire.
A resident contacted by Reuters said an area around a military intelligence complex in the New Aleppo district had been sealed off after the explosions.
Tanks storm district in Syria's Homs: activists
Tanks stormed a neighbourhood in the flashpoint Syrian central city of Homs as soldiers launched a house-to-house sweep of the area to crush regime opponents on Friday, activists said.
"The tanks entered the neighbourhood of Inshaat overnight," said Rami Abdel Rahman, head of the Syrian Observatory for Human Rights.
He said troops were still deploying to the area early Friday.
Inshaat is next to the protest hub of Baba Amr in Homs, which has been wilting under a sustained week-long assault by regime forces that has killed more than 400 people, activists say.
Follow Emirates 24|7 on Google News.